Buying and implementing an ERP is mind-bending. But working with a risky ERP vendor might turn out to be even more challenging. Understanding these risks and the mitigation plan can make you successful with your ERP implementation. So what are the top Epicor risks? Are they financially well-capitalized? Do their products have the risk of being sunset? These are the questions you are likely to have if you are thinking of including Epicor products as part of your ERP evaluation.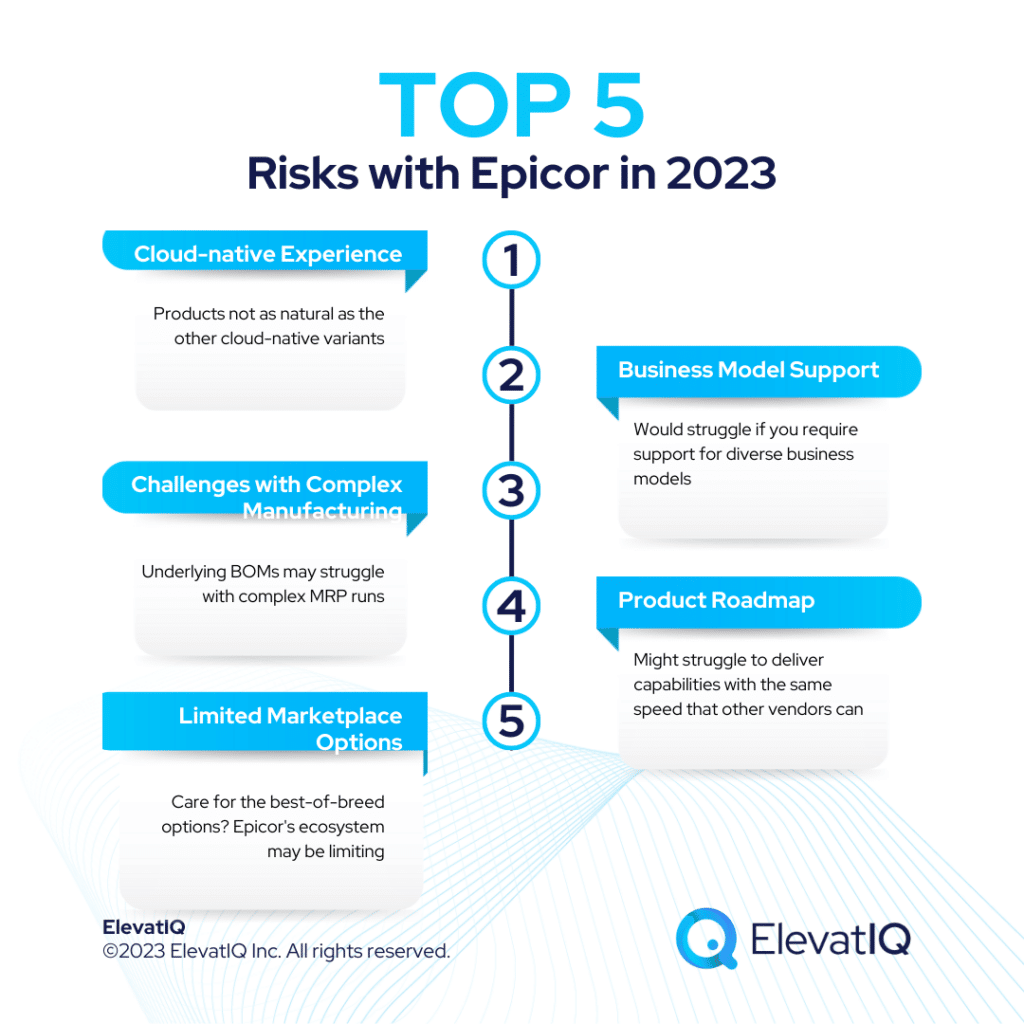 Once known to be the strongest fit for mid-market manufacturing and distribution, Epicor's position may no longer be as strong due to the cloud-native vendors. But they are still one of the most robust solutions in several industrial verticals. This article will guide you with what you need to know about recent developments at Epicor. And some risks in choosing them as the potential ERP. 1. Cloud-native Experience
While Epicor can deliver its products in the cloud delivery model, the underlying technologies are legacy. The implications? The products would not feel as natural as the other cloud-native variants such as Acumatica or NetSuite. 
Also, some of their products may not receive as much attention as others. For example, their flagship products such as Epicor Kinetic and Epicor Prophet 21 are likely to receive more R&D dollars to improve their cloud functionality. And the other products? Might be on the back burner. And, because of this reason, these products' cloud-native experience may be even inferior. Also, Epicor's Kinetic experience might come across as cloud-native during demos. But once you start using them, the UX might not be as stable just yet. During our interviews with Epicor users on the legacy versions planning to migrate to the Kinetic experience, they found it to be unstable. And didn't choose to migrate. This is likely to change in the future as Kinetic UX gets more adopted and stable. But, as of today, that's not the case.
Our recommendation would be to buy Epicor products if their out-of-the-box integrations and functionality are sufficient for your needs. But ignore if other products in the market might provide superior ROI. Finally, don't buy Epicor if the cloud-native experience is a critical success factor for you. So that's one of the top Epicor risks!
2. Not for Diversified Business Models
Epicor products are purpose-built for micro-verticals. So if your business is very focused on specific micro-industries, Epicor could be a great option. But it would struggle if your business might require diverse capabilities to host as part of the same solution. Also, since the business model is ever-evolving, the tightness of Epicor solutions might be a barrier for these companies seeking agility as part of the solution. An example of these companies? The companies that are part of the PE portfolio, or active in the M&A space.
For example, some companies may have the business model of OEM, reseller, and service provider – all at the same time, with their preference for keeping all of these business models in one ERP system. For these businesses, Epicor might not be the best fit, as it might be able to support a limited number of business models in a specific industry. But not for the companies that may have flavors of business models from different industries. Think of a construction company acquiring manufacturing capabilities. Or a brick-and-mortar retailer is also present in a complex engineered-to-order business.
The reason? Traditionally most businesses weren't as complex. So most of the legacy products were designed from that perspective. And Epicor's products are legacy. So they are not as friendly to accommodate the needs of newer business models. While Epicor products might provide deep industry functionality and integration, it will struggle with businesses that might need capabilities for business models from two different industries. Support for the diversified business model is perhaps one of the biggest Epicor risks!
3. Challenges with Complex Manufacturing
With the pre-baked last-mile functionality designed for specific micro-verticals, Epicor might come across as having deep manufacturing functionality. But the underlying BOMs may struggle with complex MRP runs. During the interviews with our customers, if a product is going to be as complex as a bus or a truck with intertwined dependencies and subassemblies, the MRP engine struggles even with 800-1000 finished goods. So anything over this would be a stretch for Epicor products. Also, this analysis was done on their flagship product. The other products will be even more limiting.
The data model might also struggle with businesses that need tighter correlations between operations and materials. Typically the industries that are heavy on costing and that require skill-based scheduling would care for identifying materials and resource at the operations level.
If you are considering Epicor as the potential solution, you might want to do POCs with MRP runs to ensure that you don't struggle during go-live.
4. Too Many Products in the Portfolio
Epicor, as of today, has several products in its portfolio, with no clear roadmap if they will be retiring them. There have been announcements of getting a public cloud version for BisTrack and LumberTrack.
But the other solutions such as Epicor Eclipse might still be on the waiting list. Also, due to so many products in the portfolio, they might struggle to deliver capabilities with the same speed that other vendors can.
Our recommendation would be to deeply understand the product and its roadmap before signing the contract. For the most part, the problems might not be as substantial if you are going for their mainstream products like Epicor Kinetic or Epicor Prophet 21. But the products with smaller install bases such as Epicor Eclipse, Epicor BizTrack, and Epicor LumberTrack have a higher probability of getting sunset.
5. Limited Marketplace Options
Epicor provides a full-suite offering for specific micro-verticals. The options that might be pre-integrated with Epicor might require additional add-ons with other ERP systems. Sounds great, right? Sure, but only if you are going to be happy with the limited pre-integrated options available through Epicor. That's rarely the case, though, when it comes to the needs of most companies. So if you care for the best-of-breed options, Epicor's ecosystem may be limiting. For example, say, if you prefer another TMS option over their default option QuickShip in hope of getting better shipping rates, then these options might not be pre-integrated.

The same thing goes for payment providers. If you would like to use any specific payment processors for your cash sale through Epicor, in the hope of getting better rates on the credit card, you might not have as many options.
The recommendation with Epicor would be to think through the entire architecture and make sure that you are in a position to replace the components that Epicor would recommend. If you can't, you might end up spending more with integration than the value the full-suite option would bring for you. So that's among the final Epicor risks
Conclusion
As with most ERP vendors, there will always be risks. While Epicor's offering might come across as risk-free due to its full-suite offerings, it might be riskier for diversified business models. The other vanilla products are better suited for these business models.

Also, the risks might not be the same with every product Epicor has in its portfolio. Some products that might offer deep industry functionality have a higher chance of getting sunset due to their limited install base.
If you are considering Epicor products, make sure you do thorough research about the specific product. And identify all the components required for your architecture. Thinking of Epicor as an isolated product might come across as cheaper on the surface but may fire back with the custom integrations required to complete the puzzle.