"Survival of the fittest" is the quote we have known for a long time. But with the way COVID-19 has battered us, "fittest" must mean "with deep pockets." With the market share declining and modern breed of competitors grabbing the market share with their exceptional cloud capabilities, it's hard to survive the recession, and especially if you don't have a real differentiator.
Once known to be a strong contender for mid-market manufacturing and distribution, Epicor seems to be a sinking ship. The recent news about KKR puling their investment further validates the challenges ahead for Epicor. This article will guide you with what you need to know about recent developments at Epicor and why you might want to find a life jacket before its too late. Despite significant growth in the cloud ERP market, Epicor is struggling.
With the expected CAGR of 17.4% for the cloud ERP market and their rivals such as Infor posting remarkable growth numbers despite the pandemic, Epicor is struggling.
Getting hammered from all fronts starting from securing a wealthy backer to product strategy, they have focused on smaller products and international markets as their customers perceive them as a legacy vendor. While they have mentioned that the cloud journey might take a while for them, how much time it would take is unclear.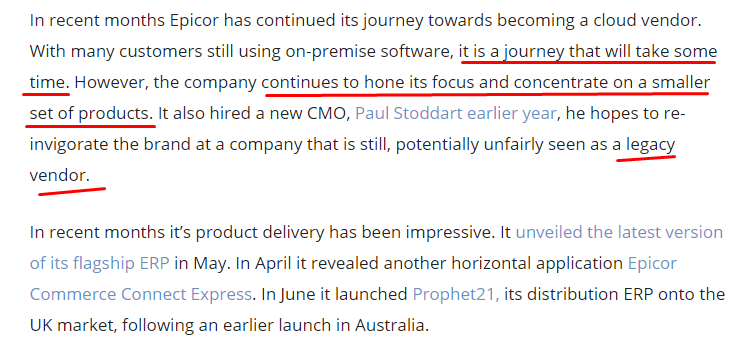 KKR is not to blame for losing confidence in them as they must be thinking that by the time Epicor figures out their strategy for cloud, the other vendors that are already strong in the cloud would have grabbed the market share from Epicor.
While choosing a financially unstable publisher was always considered risky, it has rarely been a factor against Epicor despite its challenges in securing a long-term investment for a long time.
Epicor is among a few popular ERP vendors with weak results.
With their recent disappointing sales performance, even their customers seem to have lost confidence in their capabilities. They are one of the only popular ERP vendors that have not posted strong sales results.
Let's take a look at their performance as per the article:

Based on these numbers, it seems that not only have they been struggling to grow their cloud numbers, their overall revenue also seems to have been falling.
COVID-19 is not the only problem for Epicor
If COVID were the only reason for their slow growth, we would understand, but their problem started much before the economy was clearly on the boom.
Also, these were the years when other vendors grew their cloud capabilities significantly.
If they have experienced such a downward trend for the last three years, their problems could be grave in the future years, which would also mean that it will be hard for them to catch up with other vendors that are already ahead in their cloud capabilities.
This problem is not new for Epicor.
While KKR may have lost their confidence today, they have had their shares of problems from the beginning. The recent acquisition of Infor by Koch Industries may have changed the game for mid-market manufacturing ERP space entirely and could be a factor in KKR's decision.
Traditionally, Epicor has done well in the manufacturing and distribution industries, with the significant success being manufacturing or distribution modules on top of Sage or similar accounting systems. With Sage X3 being ahead in the cloud, even Sage, rarely considered a strong contender in manufacturing or distribution except for the accounting department, must be taking its market share in the cloud.
Epicor always struggled with differentiation.
Moreover, if you think about it, Epicor never had a clear differentiator. Their products had a significant overlap with Infor that was always a leader in manufacturing from the beginning.
Their strategy was similar to Infor, where they wanted to provide complete solution out-of-the-box for specific industries. Still, unlike Infor, they never had a strong presence in any particular verticals.
Conclusion
As an ERP company, there are two ways to be successful in the market. If you want to go after the big guns, you need to have deep pockets such as Koch in the form of an ultra-wealthy investor who is willing to invest for the long term or find a small Niche.
Unfortunately, Epicor seems to have been failing on both accounts. They could not succeed when things were in their favor. With the testing market conditions of COVID and fierce competition ahead, not sure if anyone would think that Epicor is fit enough to survive.
If you are an Epicor customer or thinking of moving to Epicor, you should probably be looking for safe heaven already.