Most digital transformation initiatives fail (What percentage? And what constitutes a failure? Would always be a topic for debate. Another time!). As far as this post is concerned, let's stick to the reasons for these failures. There are several. More often than not, it is because of the lack of process reengineering or change management procedures. But the chances of failure are higher if you choose the wrong product. So who should be responsible for failed ERP implementation due to the wrong product? In most cases, the implementation team gets blamed. But if the damage is already done during the selection phase, there is very little that the implementation team can do.
The result? Sometimes these ERP projects are recoverable. And other times, the damage is so bad that the complete project needs to be scrapped. Also, even if you are able to recoup the licensing money, you might lose exponentially more because of business disruptions — and with implementation dollars. There might also be situations where you might end up going to court. But even there, it's very hard to prove overcommitment. The only thing you will always have on your side: be super cautious with these products. And perhaps seek advice from independent ERP consultants — much early in the process. Or even their hands might be tight.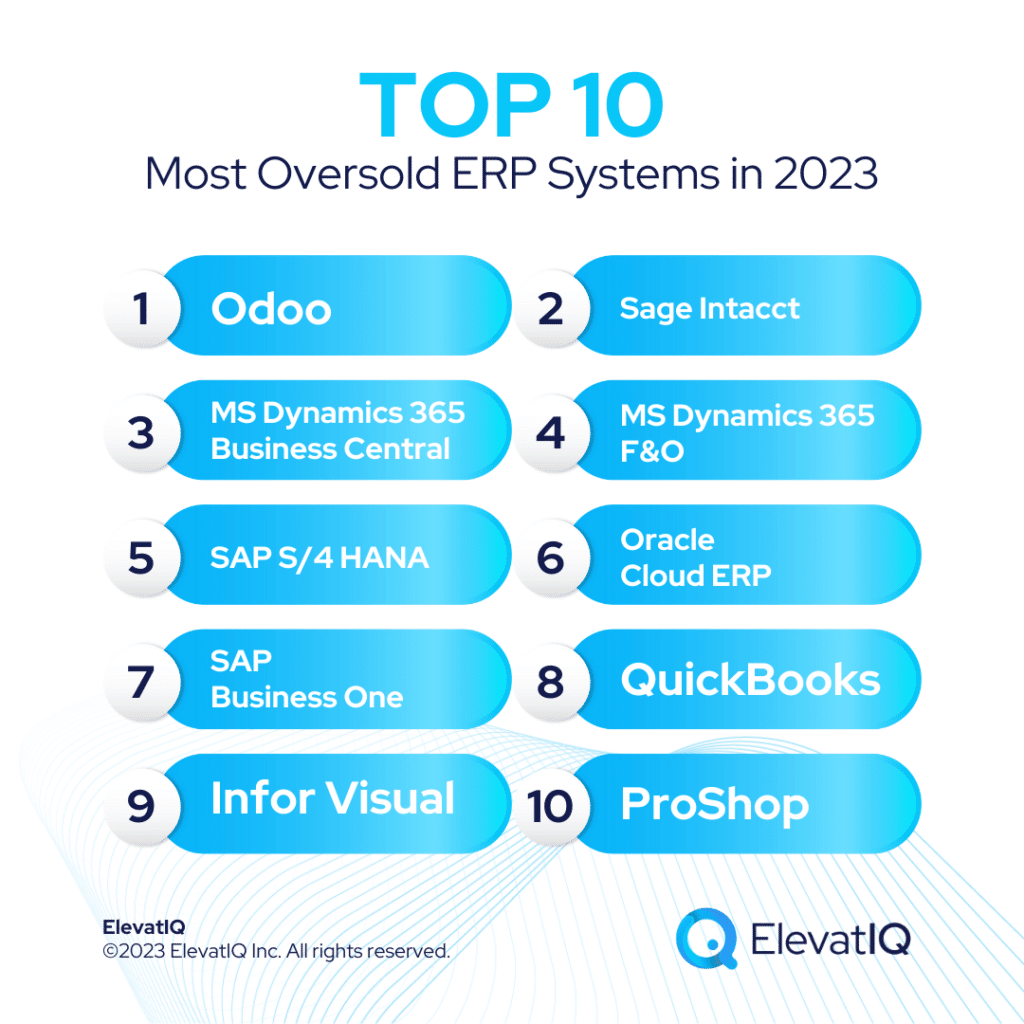 Also, to be sure, there is fundamentally nothing wrong with these products. It is their overselling and over-commitment that cause ERP implementation failure. In general, each ERP system's design targets a specific market. The problem is that less-tenured ERP sales reps with minimum implementation experience struggle to forecast implementation issues. When the implementation team takes over the control, the damage is already above their capabilities to recover. So each year, we track the most misrepresented ERP systems (or the ones associated with the most failures). So you can scrutinize them more to ensure that you don't end up — with a painfully failed ERP implementation. 10. ProShop  
ProShop is a relatively newer ERP system, which targets machine shops. While they claim to be an ERP system, it's a very thick add-on that sits on top of QuickBooks or Sage 50. And it's suitable for shops on QuickBooks or Sage 50. These companies buy ProShop as they may not have access to the thick manufacturing features they need — to run their operations. It's also a unique solution as it combines several features of quality management systems and MES. If you were to buy other ERP systems, you would spend a lot buying multiple systems (and integrating them). So it's an ideal solution for smaller shops that can't afford large implementation dollars or integration.
However, ProShop is limited by the transactional and data integrity of QuickBooks and Sage 50. And, just like QuickBooks, you might be sitting on significant business continuity and data integrity risks if you stayed on ProShop for too long. Also, while ProShop does a great job with the shop floor, it has limited financial and procurement capabilities. And the insights that you will get from ProShop are likely to mislead. Because MRP, inventory, and supply chain processes require you to have financial data embedded at each process step.
Also, ProShop has taken significant shortcuts with its flattened data model, which would pose a substantial risk with the translation of your information and data model once you outgrow ProShop. While there are technical issues with the product, ProShop seems to receive positive reviews from its customers (At least the ones highlighted on the review sites. Can you buy reviews? Maybe you can. Maybe you can't). Because of this, we have upgraded them to #10. As well as because of the other products on this list we have seen a lot more failures this year.
9. Infor Visual
Infor Visual is a single-tenant product, which targets smaller custom manufacturing shops. Its size is similar to Microsoft GP, ECi Macola, SYSPRO, SAP B1, etc. Their design is suitable for companies that have just one legal entity (and are primarily operating in one country).
Also, just like Microsoft GP or Oracle EBS, Infor Visual has an uncertain future, with no clear direction from Infor to rearchitect that for the cloud. Its resellers might argue that Infor Visual is only relevant for customers that are seeking to buy in an on-prem setting. But, in reality, it is because their incentives are higher with the IT infrastructure, support, and maintenance. That — they would lose with cloud products (such as Infor CSI, LN, M3, or SX.e products). So they promote Infor Visual over other Infor products.
The challenge with this product is not whether you prefer to buy in the on-prem setting or in the cloud. It is rather whether the product will have a sufficient customer base to receive upgrades in the future. Also, there are other products from Infor that could work as well as Infor Visual. But they would require these resellers to upgrade their skillsets — to cloud-native development. In general, cloud-native practices are much harder to learn (due to the restricted and controlled procures that ERP publishers mandate with the cloud). Infor Visual also has one of the highest failure rates because of overselling to industries such as construction engineering or distribution — where the product typically struggles. Since there has not been a material improvement from either Infor or its resellers to prevent overselling of the Infor Visual product, it maintains the same rank as the last year.
8. QuickBooks
QuickBooks could be an excellent solution for startups when you don't need your departments to be integrated. Especially, when you might not have as many transactions in your business, the efforts in duplicating data across systems may not be as significant. So, you might be able to stay on QuickBooks until you are $2-3 million in revenue. And at times $5 million (if your transaction volume is not high). But, even at this stage, you now have richer options, such as Zoho, ECi JobBOSS, or Odoo. And they might not be as expensive compared to other larger ERP systems. Because their design is simple, and you can easily use them in the self-serve mode. 
Also, many people in the accounting community hang on to QuickBooks for way too long. They do so due to their familiarity with the product. As well as due to their incentives to earn service fees in creating dashboards and reports. These reports are available out-of-the-box with ERP solutions. They end up replicating this functionality with QuickBooks, which is more expensive to maintain and forms poor data hygiene.
There is another misunderstanding in some industries that there are two ways to integrate your processes. Either you can get an ERP system and integrate your operational processes with it. Or get an accounting system and integrate your OMS layer by sending GL entries. But they don't understand the approach of integrating the accounting system will never produce the same results — with supply chain planning, inventory, and MRP processes. With the increase in best-of-breed SaaS systems, the usage and misunderstanding of QuickBooks' role have been on the rise. And that's why this year QuickBooks has received a slightly higher ranking at #8.
7. SAP Business One  
The core SAP Business One product is extremely weak in the cloud. It requires thick add-ons provided by partners to work in the most product-centric industries except for smaller distribution operations and light manufacturing. 
SAP partners also have a tendency to sell the underlying on-prem code base as the cloud. They do it even when they may have simply deployed this codebase to AWS or Azure. While you might receive the financial benefits of the cloud through this arrangement, the efficiency and user experience of the legacy code will not be comparable with other cloud-native solutions. 
You will also be bearing a much higher risk with the vendor add-ons if the core functionality of your business operations, such as sales compensation calculation or outside processing for packaging or plating operations, will be performed with the add-ons. For these reasons, SAP Business One is still among the top oversold ERP systems for 2023.
6. Oracle Cloud ERP  
Oracle Cloud ERP is the new entrant on this list for this year. It is an amazing product for larger, publicly-traded organizations. Its sweet spot is with service industries in the non-profit, telco, media, oil and gas, and energy industries. The product struggles with inventory-centric operations, heavy on warehouse and MRP operations.
Our customers reported substantial issues with warehouse operations and MRP processing with Oracle Cloud ERP. The core reasons were the integration issues with the WMS and ERP. There may be situations where Oracle Cloud ERP may be a fit when a sophisticated OMS (Order Management System) or RMS (Retail Management System) platform is used in conjunction with Oracle Cloud ERP. But even in this case, the role of ERP would be limited to just keeping the inventory balances and maintaining the financial ledger.
This architecture typically has issues with operational inefficiencies as you might be required to maintain multiple ledgers. Sometimes companies use separate ledgers for warehouses. And yet another for merchandising. This architecture is very similar to integrating your OMS layer with the accounting software. And it would have substantial limitations with the inventory and MRP processes. Even for the industries such as Telco (which are not as inventory-heavy as a manufacturing organization), Oracle Cloud ERP struggles with inventory operations. And because of the recent implementation failure we have seen in our customer base, it's among the top oversold ERP systems for 2023.

5. SAP S/4 HANA
Similar to Microsoft F&O, there is a misunderstanding among ERP users and SAP partners that a bigger solution can solve problems for most companies. But the real motive behind why partners and reps like to push larger solutions is to increase their deal size. In addition, the bigger solutions are designed for a specific purpose. They are designed for companies with larger IT budgets. The companies that can afford to build last-mile functionality on top of the core product. 
The implementation issues associated with MS F&O and SAP S/4 HANA are fairly similar, with the only exception being that SAP has far more control over its channel than Microsoft. However, SAP S/4 HANA is also behind in its cloud capabilities compared to other competing solutions such as Oracle Fusion ERP or Microsoft F&O.
SAP also does not make it clear whether you will be getting the legacy codebase or the new cloud-native codebase. They don't provide clarity especially when you are purchasing SAP S/4 HANA. And finally, there is a perception, especially among the CFOs, that SAP is a solution to all their problems (and if SAP can't meet their needs, none of the other companies should be able to do that either. Heard this before?). For this reason, SAP S/4 HANA is often oversold. And it lands at number 5 on our list of the top 10 ERPs most oversold in 2023.
4. Microsoft Dynamics 365 Finance & Operations (F&O)
Microsoft (MS) F&O users and MS partners often misunderstand and miscommunicate that a bigger solution can solve problems for most companies of any size. But the reason why MS partners and sales reps like to push larger solutions is to make their deals bigger. The larger the solution, the more expensive it is. Also, the MS channel is not as controlled as the other ERP vendors such as SAP or Oracle. And because of this, there might be significant issues where you might not be eligible to receive support directly from Microsoft, especially if you buy licenses from one of their OEM partners.
We have seen cases where these OEMs sell unproven add-ons. Or sell to industries such as continuous manufacturing where you need different ERP solutions designed for those industries. The failure that we often come across with Microsoft Dynamics 365 F&O is not necessarily because of the product itself. It is because of the unqualified resellers who overcommit and fail with the implementation. So if you are interested in exploring Microsoft Dynamics 365 F&O, you might want to consult with an independent ERP consultant to vet the quality of add-ons and qualifications of Microsoft resellers. And for these reasons, Microsoft Dynamics 365 F&O is among the most oversold ERP systems for 2023.
3. Microsoft Dynamics 365 Business Central (NAV)  
Just like SAP B1, Microsoft Business Central (BC) is a fantastic product for SMBs needing global financial and localization capabilities (when one or a couple of subsidiaries might be present in complex geographies such as Europe, Southeast Asia, or South America). But it does not have the rich operational capabilities that other solutions such as Epicor, Infor, or Sage X3 might offer. And since Microsoft does not have tight control over its channel and sells these products with a very hands-off approach in the OEM setting, we have seen scenarios where a significantly thick add-on might sit on top of MS BC. 
While there are ISVs that may be as credible as Microsoft, there are also ISVs that are highly technical (not in a good way!). And don't have the qualifications to understand business issues. And why process reengineering is critical with an ERP implementation. In addition, if the add-ons are critical for business operations and poorly documented, it often results in implementation issues. Due to this reason, we have seen a lot more failures this year with BC, which is why a little higher ranking at #3.
2. Sage Intacct
Sage Intacct is a fantastic product for global companies that require deep financial functionality. It also has last-mile functionality for several service-centric industries such as not-for-profit, public sector, construction, tech, and financial services. But it does not have the core functionality to support product-centric industries. And we have seen scenarios where companies sell Fulcrum ERP or Katana MRP in conjunction with Sage Intacct. They do so with the claim of no-code development and best-of-breed solutions.
Natively, Sage Intacct doesn't have functionality for product-centric industries and should not be sold to these industries. Since Sage Intacct stretches itself from its core capabilities and is sold to industries where it's not a natural fit natively. Also, accounting firms promote and implement Sage Intacct. With their limited exposure to supply chain and MRP planning, they implement it just like an accounting system while using several add-ons. This implementation style is very similar to integrating the OMS layer with an accounting solution. Or how Oracle EBS approaches implementation for product-centric industries. And it typically results in implementation failure. We have seen a lot more failure this year with Sage Intacct, which is why it's ranked much higher at #2 among the most oversold ERP systems for 2023.
1. Odoo
Odoo is an excellent product for startups and technically savvy companies, such as eCommerce and Industry 4.0 system integrators. At this stage, they can get far more out-of-the-box (OOTB) functionality with Odoo compared to QuickBooks (and without spending significant money on the implementation or consultants). Because the native product is relatively simpler and designed to work in the self-serve model — just like QuickBooks. 
But the notion of open-source misguides customers. And they feel that Odoo can work with companies of any size (when its target market is companies with simpler needs) — similar to the QuickBooks market segment. However, in our experience, companies hang on to Odoo way too long because they feel that they can customize it the way they want — without performing buy vs. build and ROI analysis of these features.
This year, we have seen a lot more failures with Odoo. And in industries where even Infor or Epicor might be hesitant to sell due to the complexity of the requirements and compliance needs for those businesses. But Odoo treats every implementation as a technical implementation — led by IT. And because of these issues, we see a lot more failures with Odoo than most other ERP systems on this list. Also, just like Sage Intacct, Odoo is also aggressively promoted by public accounting firms. And because of this, the implementation issues are very similar to Sage Intacct or Oracle ERP Cloud. And because of these reasons, Odoo ranks at #1 among the most oversold ERP systems for 2023.
Conclusion
The ERP system selection is complex, with so many moving parts involved. Traditionally, the ERP selection process focused simply on the system's functional capabilities. But the technical and native capabilities are equally relevant. They are relevant to assess whether the ERP system produces business and efficiency results. The results that you are hoping for from your transformation initiatives. Therefore, the native capabilities of ERP products play a critical role in your ERP journey. 
So make sure you do a thorough evaluation rather than relying on the top 10 ERP lists (or take help from independent ERP consultants) who maintain a deep understanding of these ERP systems and vendors along with their technical limitations.
FAQs