ERP Systems Scorecard Sheet
Struggling with a structured methodology for ERP selection? Not sure how to quantify the ERP selection criteria that your executives will be willing to buy? Not sure which factors should be included in the ERP systems scorecard? Overwhelmed with the number of variables that might be driving the ERP selection process? Confused with the new requirement thrown your way from business process owners and subject matter experts? Then, you have come to the right place.
This resource provides a framework for quantifying the ERP selection process. It also teaches you how many systems you should include as part of your initial selection in order not to miss a good solution. But also not spend years without making progress. Finally, it teaches you how to make heterogeneous solutions requiring multiple add-ons comparable.

To compile this template, we have analyzed hundreds of our client engagements. We found this template to be the most efficient in capturing the quantification metrics to quickly and easily compare different ERP solutions in the market. This template is designed for ERP buyers and project managers looking for a structured framework to quantify the ERP selection and digital transformation projects. Here is what you can expect from this template.
  How to structure the thought process, identify critical success factors, and find solutions that need to be included in the ERP selection process?
 How to make heterogeneous solutions comparable that might contain several add-ons, integrations, and customization needs?
 How to find the right number of solutions to review and when to move on if the first set of solutions might not score as well during the demo as they did during the secondary research phase?
 How to present these scores to executive teams and get their buy-in for the first phase?
 How to create a data-driven methodology for ERP selection that will help build consensus with your executives?
A brief walkthrough of a recent customer who went through the process of developing the strategy to transform their current eCommerce operations to include a buy-online-and-pick-up-in-store and buy-in-store-ship-to-home business model.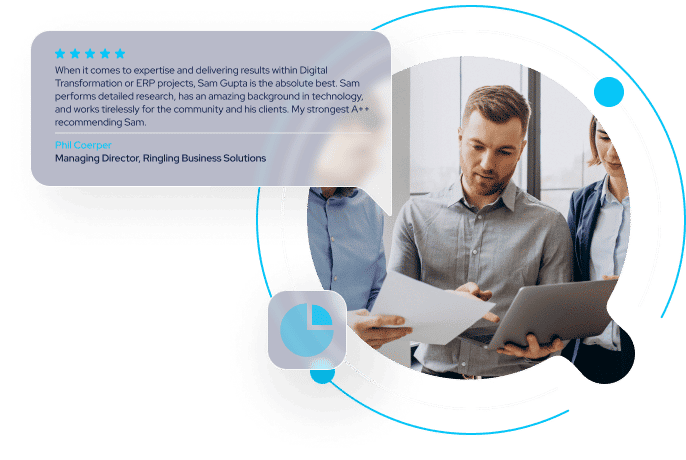 A leading fashion retailer with more than 30 stores throughout the United States was struggling with the customer experience and accommodation of business models such as buy-online-pick-up-in-store due to disconnected eCommerce and fulfillment systems. They needed omnichannel experience that could transform their experience and help them compete with their larger peers.
They hired ElevatIQ to assess their as-is and to-be state and come up with the strategy to enable the needed experience. Through the series of workshops and secondary research of their data, ElevatIQ formulated a strategy with the changes in business processes, information architecture, and systems.
The strategy resulted in a clear alignment of their executive teams with a refined understanding of their business processes and operations. The strategy also resulted in a clear understanding of the investments and solutions required to implement the strategy.