Download the ERP Selection Guide
ERP Selection: The Ultimate Guide
Are you new to the world of ERP and getting confused with so much information available? Do you have questions about whether to invest in the ERP selection process? Are you curious about why there is such a high failure rate for ERP projects? Not sure how to structure your selection process and plan your internal capacity? Want to learn the best practices of ERP selection? Then, you have come to the right place.
This is an in-depth guide with over 80 pages and covers every topic as it pertains to ERP selection in sufficient detail to help you make an informed decision. It answers questions such as the role of ERP in the context of enterprise architecture and its relationship with other peripheral systems. It also provides insights into why identifying the boundaries of an ERP is critical to identifying the right solution.
This guide summarizes ERP system functionality, ERP maturity stages, and ERP system processes. By delving into the overarching view of the ERP industry it guides you on the roles and responsibilities of different companies along with different systems for various market segments. It then touches on different selection biases that lead to implementation failure. Including process steps, selection deliverables, selection types, pricing, and contract negotiation, it also describes the ERP selection process in deep detail. Finally, it touches on change and program management, as well as organizational readiness for ERP, change management deliverables, ERP team, ERP team capacity planning, and ERP business case.
To compile this ERP selection guide, we have analyzed thousands of selection projects and their best practices. We have not only included companies of various sizes in this study but also from different industries. To provide a comprehensive analysis, we have analyzed ERP selection best practices from all lenses, including business, process, data, system, change management, program governance, ERP industry macro forces, and enterprise architecture. This guide is designed for CEOs, COOs, CFOs, and ERP buyers interested in learning about the ERP selection process and how to structure the process to their unique needs. Here is what you can expect to learn from the guide:


How do you identify the boundaries of ERP for your unique needs with the constraints posed by other components of enterprise architecture?
How do you assess your current ERP maturity stage, and how do you design your to-be state that will dictate the right solution for your needs?
What are different ERP modules and processes that are generally hosted inside the ERP or remain outside of the ERP without breaking the integrity of implementation or solution architecture?
What are the top ERP vendors and the top systems for each market segment?


What are the most common problems that ERP selection companies generally face?


The steps of the ERP selection process, including how to hire ERP selection consultants and what outcome to expect from the ERP selection process?
What are different types of ERP selection, and why do ERP selection quote very different pricing for their engagements?
What are the different components of ERP pricing, and how do you negotiate ERP contracts?
What steps are required for organizational readiness, what are the different types of change management deliverables, how to build an ERP team, how to do ERP capacity planning, and how to build a business case for an ERP?
A brief walkthrough of a recent customer who went through the process of developing the strategy to transform their current eCommerce operations to include a buy-online-and-pick-up-in-store and buy-in-store-ship-to-home business model.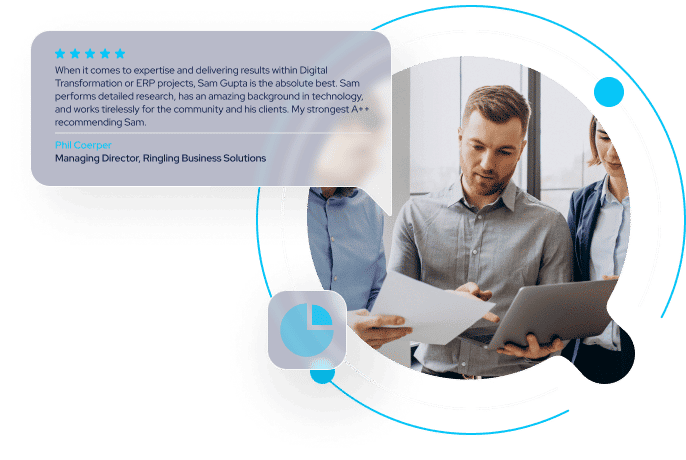 A leading fashion retailer with more than 30 stores throughout the United States was struggling with the customer experience and accommodation of business models such as buy-online-pick-up-in-store due to disconnected eCommerce and fulfillment systems. They needed omnichannel experience that could transform their experience and help them compete with their larger peers.
They hired ElevatIQ to assess their as-is and to-be state and come up with the strategy to enable the needed experience. Through the series of workshops and secondary research of their data, ElevatIQ formulated a strategy with the changes in business processes, information architecture, and systems.
The strategy resulted in a clear alignment of their executive teams with a refined understanding of their business processes and operations. The strategy also resulted in a clear understanding of the investments and solutions required to implement the strategy.