The macroeconomic trends have a direct impact on companies' cash position. And on their appetite to invest in long-term strategic projects. Simply put, the higher the uncertainty, the lower the cash. And unfortunately, 2023 is not going to be a year when we can finally be over with uncertainty. The inflationary pressures, supply chain snarls, and declining consumer confidence are all fueling the fire. So CFOs need to find ways to conserve cash. And cutting coffee in the break room might not be enough! The natural choice is likely to be digital transformation projects due to their expensive and risky nature. Unless these projects can help them save cash.
These trends will also drive the enterprise software industry. How? Well, there are two factors that are likely to have architectural implications for companies. First, the enterprise software vendors will align their feature releases with customers' priorities. In other words, the features that will help their customers save cash. Second, with the tighter investment outlook, enterprise software vendors will struggle for revenue as well as funding. So they will struggle to stay afloat and be desperate! This offers an extremely attractive opportunity for investors to buy depressed assets. As well as a chance to remove inefficiencies (and competing features) and drive growth through consolidation.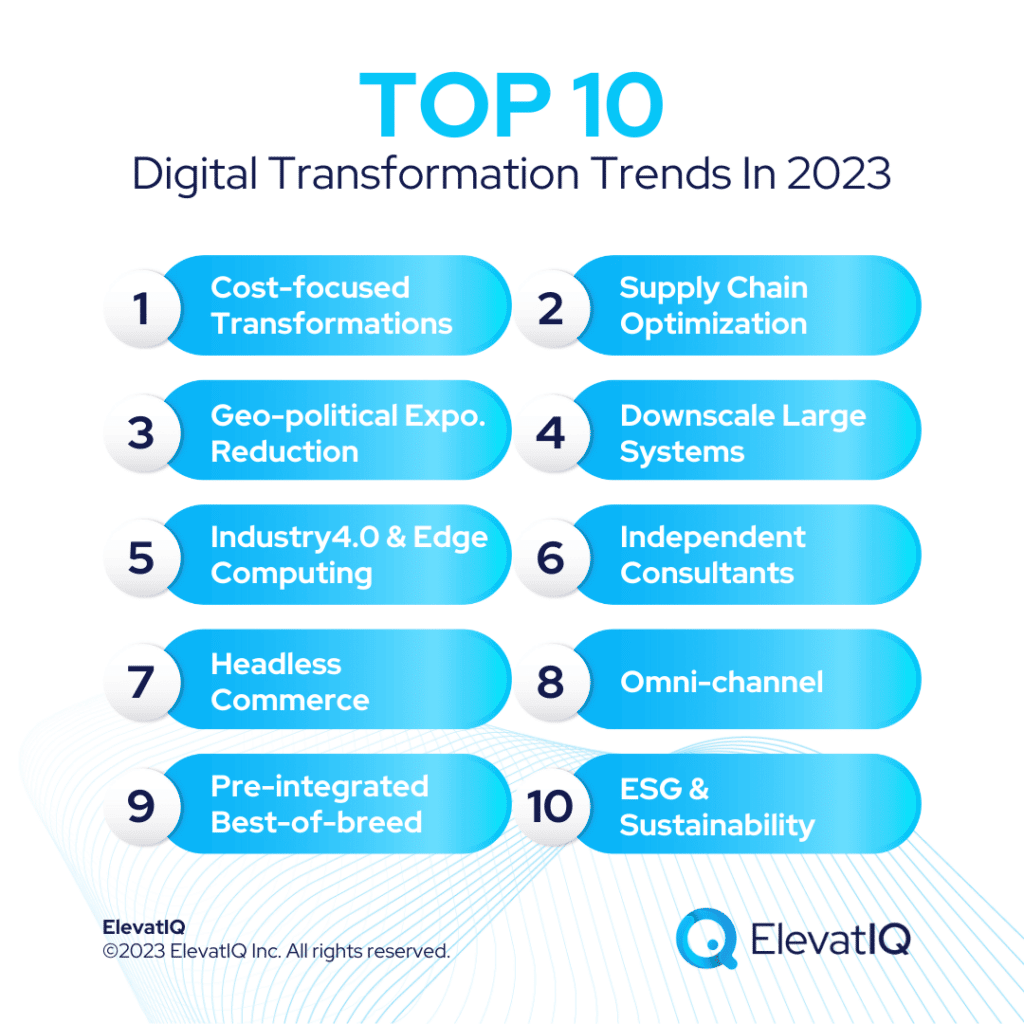 Collectively, these features will drive digital transformation trends in 2023. And this article will help you plan your digital transformation projects. These trends are also important to know as they will drive your existing or new contracts' support levels. Excited to see the list now? 1. Change of Perspective from Growth-focused Transformation to Cost-savings
Cost-focused transformations are likely to be one of the leading digital transformation trends for 2023. The difference between growth-focused vs cost-saving transformation projects? Think P&L and visualize the line item impacted by these projects. The ones that focus on the P&L's expenses section are likely to be approved. Examples? Reduction in headcount or opportunities for automation.

Moving to the cloud or using cloud-native technologies? Yes, they help drive cost savings as they will reduce the short-term CapEx spend. In addition to making cash available in the short term.
2. Supply Chain Disruptions and Mitigation Strategies
The supply chain disruptions will require companies to evaluate their single source of supply. This will drive the process and architectural changes depending on the impact of supply chain disruption. The increased lead times (and unpredictability with supply) will drive the need for network traceability and vendor performance data.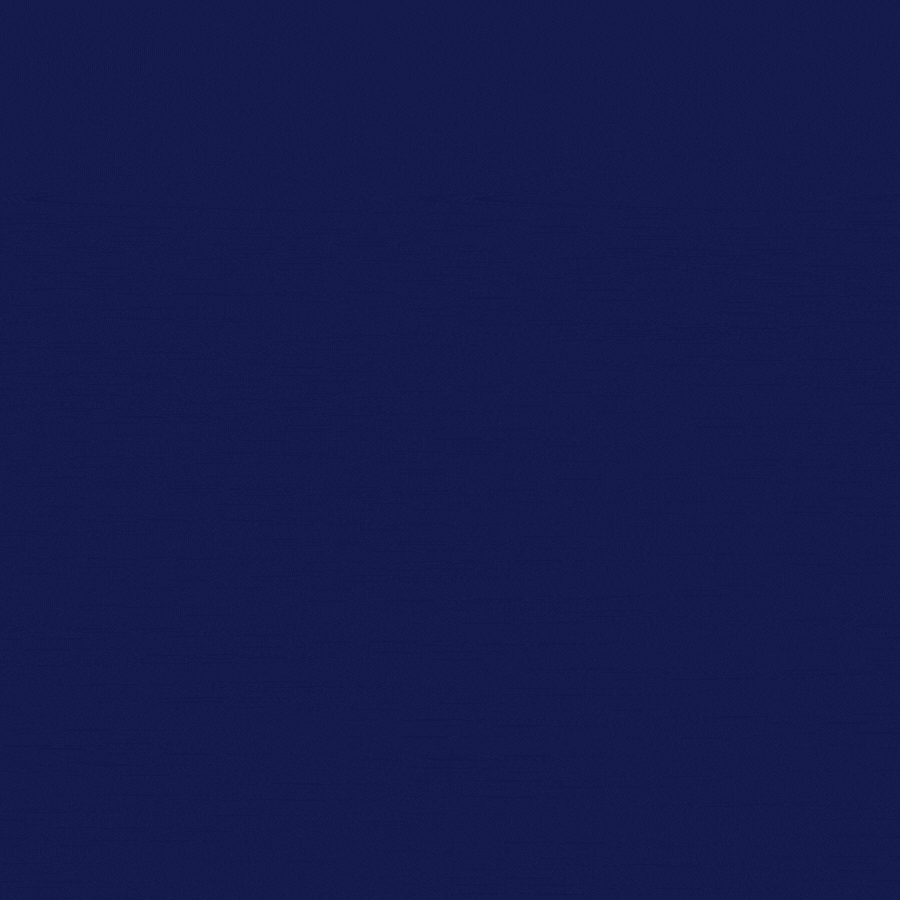 What else? The OEMs will require their suppliers to perform joint forecasting. And that will require suppliers to share more data with their OEMs–and send early notices for any exceptions. These changes will require systems to be pre-integrated with OEM systems (including pre-built connectors that will allow suppliers and manufacturers to collaborate easily).
3. Reduction of Geo-political Exposure on Operational Processes and Systems
Geopolitical pressure will drive the relocation of warehouses and factories. And sourcing parts from locations that might not be as susceptible to geopolitical instability. Companies might also produce critical components in-house – to reduce the risk of geopolitical instability.
So how would this impact digital transformation projects? They are likely to drive process changes and rewiring of systems. And this is why the reduction of geo-political exposure is going to be one of the major digital transformation trends for 2023.
4. Cost Pressures Driving the Shift from Large ERP Systems to Mid-market
Planning for the next 5-10 years is not uncommon with ERP systems. But when you have so much uncertainty in the market, your forecasts might fall on their face. The forecasts built on the assumptions of pre-COVID expectations are no longer true. And nor are the operational capacity expectations. So the companies that overbought systems with that forecast in mind will need to degrade them.
Why? Higher licensing costs (charged by OEMs for larger systems). That might eat up the available cash. And margins. This trend will drive the licensing sale of mid-market systems in 2023 – much higher than the larger systems.
5. Industry4.0 and Edge Computing
The industry4.0 and edge computing initiatives have the potential to improve operational efficiencies. How? Through increased output from each machine. By replacing remote workers responsible for maintaining remote edge devices. Or by reducing waste of the existing processes.
As the industry4.0 adoption increases, they will require compatible technologies to be pre-integrated. And that might change the scope of existing systems in the enterprise architecture (due to changing architecture and data requirements).
6. Rise of Independent Consultants
As companies become conservative with their risk appetite and investments, they can't afford to fail their digital transformation initiatives (due to vendor conflicts and overlapping technologies). Also, with the ever-growing channels, the role of an enterprise and vendor-agnostic architecture is going to be even more relevant.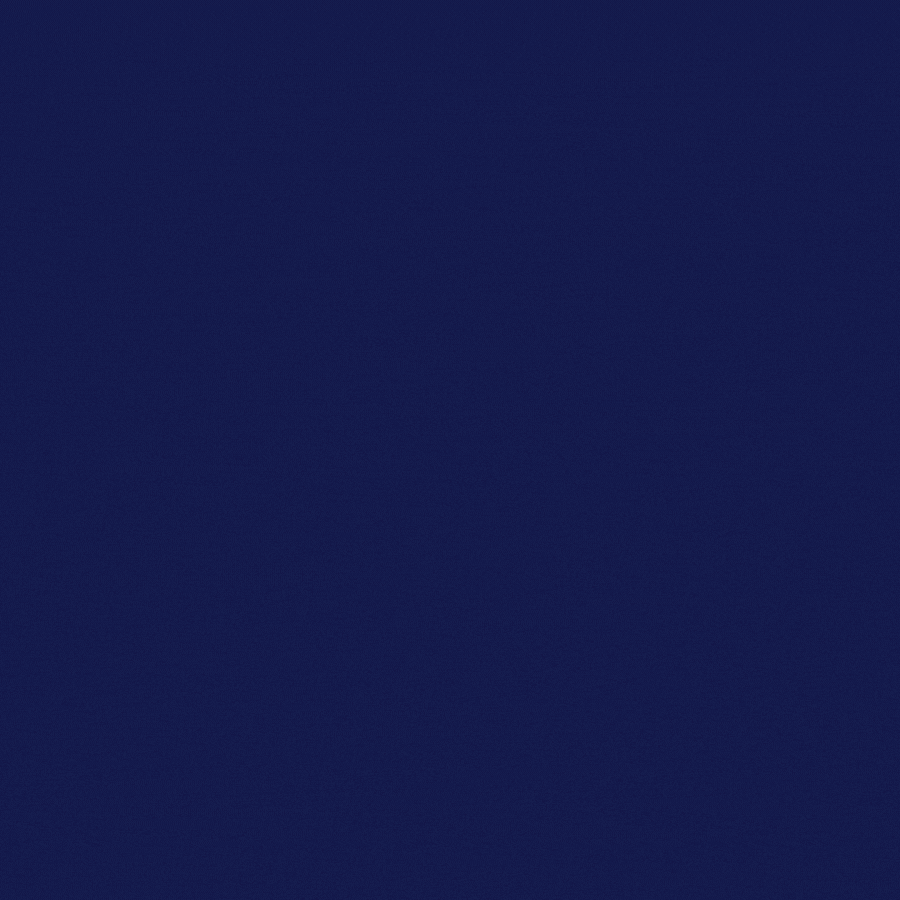 And therefore, the role of independent consultants will continue to be among digital transformation trends in 2023. Why? Because they can reduce ERP implementation and integration risks for companies substantially. Much lower risk than working with technology vendors directly. Not to mention the reduced workload for your key stakeholders (Why? The technology vendors' lack of expertise with business processes requires more time with knowledge transfer to kick off implementation projects).
7. Headless Commerce and Composable Architecture
The adoption of headless, composable architecture, web3.0, and Metaverse is likely to be slower (due to their growth-focused nature). Would it be similar for companies irrespective of their size? The larger companies are likely to still invest in these technologies heavily. Why? Because it helps them differentiate from their smaller competitors – and grab their market share.
Would the implementation of these technologies have implications on suppliers' systems and processes? Yes, the interaction model for the smaller vendors will change. What else is likely to change? The requirements for their suppliers to provide a similar experience. The result? It will drive their enterprise architecture and ERP systems' scope.
8. Omni-channel Experience
Traditional businesses with physical locations treated their ERP systems as a backend function (primarily for financial reporting). With the omnichannel expectations, this architecture is no longer enough.
The new architecture requires growing the role of ERP systems. A complete refresh! As well as increasing the scope of the integrated POS layer to incorporate more channels and systems. These architectural changes will drive the scope and feature required in ERP systems.
9. Pre-integrated ERP and Bolt-ons
Integration and bolt-ons that drive the enterprise architecture complexity are perhaps the riskiest elements of ERP implementation projects. Well, if not the riskiest, then most likely after the custom development (like designing your ERP from scratch!). So any custom integration is probably going to be a dealbreaker in 2023. And Best-of-breed SaaS applications (eCommerce, POS, WMS, PIM, vendor portals) and hardware providers (think ASRS systems, vending machines, CNC, and nesting machines) will focus on pre-integrating their applications.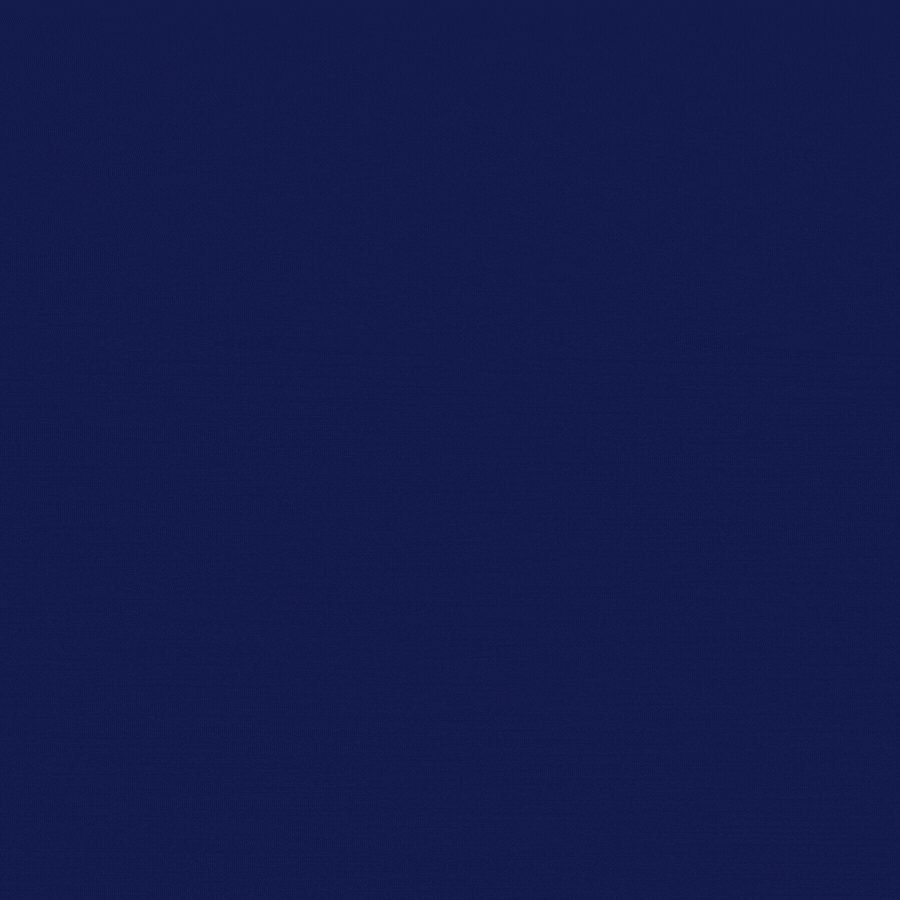 We have already seen scenarios such as ERP vendors buying MES providers. And hardware providers buying EAM and quality solutions (in the hope of providing pre-integrated solutions). The PE-driven consolidations will also drive the pre-integrated offerings among their portfolio companies.
10. Workflow Automation
Workflow automation technologies are making it easier for business users to code ad-hoc workflows (that would typically be done manually or through spreadsheets). These technologies help promote consistency with operational processes – and avoid data integrity issues.
The result? It helps companies save money with added process efficiencies (and reduced admin efforts). Due to their cost-focused nature, they are likely to remain relevant in 2023.
11. Rise of Third-party and Proprietary Marketplaces
Most of the large PE firms are bullish about platform-focused startups. There are several marketplace-driven business models that will continue to grow in 2023.
They include a network of suppliers for procurement practitioners to find parts easily. A marketplace to provide channel extension opportunities, similar to Amazon. Or a 3PL marketplace to increase operational capacity without investing in physical inventory and logistics. These marketplaces will drive enterprise architecture complexity (and the scope of ERP systems).
12. AI-driven Operations and User Experience
AI and ML algorithms will also be able to detect anomalies that cause ERP adoption and planning issues. As well as improving user experience through predictable workflow engines. This will make the newer systems improve supply chain traceability and debugging faster.
All in all, reducing the total training time for users and increasing operational efficiencies. Because of these improvements, the newer, cloud-native systems will continue to be adopted through 2023.
13. Development and Retention of Talent
The competition for talent will continue to drive the replacement of legacy ERP systems with modern, mobile-friendly – and cloud-native systems.
How about the approach for selection and implementation? Yes, they might need to change their traditional top-down approach and involve users' participation in the selection process – to ensure adoption and retention.
14. Cybersecurity Maturity
The large-scale cybersecurity issues will continue to surface due to the increased attack surface – and will drive changes to the architecture and interfaces. Legacy systems such as AS400 or ECC installations of family businesses (with millions of lines in custom development on top of these systems–and without the active support and upgrade agreements from the OEM) are more prone to such attacks.
The ERP vendors of "dying" product ecosystems – where maintaining cybersecurity patching may be higher than licensing revenue – are likely to retire. And ERP vendors might push their customers to cloud-based systems (due to increased legal liability for them with these outdated technologies).
15. ESG, Sustainability, and e-invoicing
The e-invoicing and ESG standards are fairly immature in most countries. And as governments develop a better understanding of their own needs, they are likely to change. And that is likely to have an impact on different countries' reporting requirements. The govt and policy changes might have an impact on these requirements as well.
Some of these requirements are so complex (so different that most standard ERP packages might require millions of dollars with customization) that they could be make-or-break for your ERP selection and implementation. So global implementation would require careful analysis of these requirements in each country. And their impact on each transaction and data model. In 2023, ERP systems will need to play a catch-up game as these requirements evolve.
Final Words
2023 will not be the year to woo your CFOs with the "digital transformation hype" pitch. Their role will be to conserve every penny in the organization. And cost-focused transformations are likely to be the theme of the year for digital transformation trends.
Some people may argue that the era of ERP and integrated applications is over. Instead, it's the opposite. In 2023, the solutions are going to be even more integrated. And several best-of-breed applications might be consumed by large enterprise software vendors. So it might be harder to define what an "ERP" really is. Not sure how to feel about 2023 just yet, but the pre-integrated applications will likely improve the success rate of ERP implementations. A positive sign of encouragement personally for me. And hopefully, it is for you as well.