The lines keep blurring between ERP vendors vs. the best-of-breed vendors that integrate with the ERP systems. The best-of-breed vendors are always acquiring more capabilities to gain cross-functional marketshare. On the other hand, ERP vendors are interested in broader capabilities to make their offerings attractive. While we expect the ERP market to change substantially in the next few years, that didn't happen in 2022. Primarily because ERP vendors have been conservative with their acquisition strategy, with the expectation of a recession in 2023.
By contrast, in 2021, we saw vendors such as Aptean, Epicor, and ECi being active in the acquisition space. But these developments have not had a martial impact to shake the rankings of the top 10 ERP vendors. The most notable events for the ERP markets were Oracle's acquisition of Cerner. This acquisition will help them gain more marketshare in the healthcare space. And Sage's acquisitions of Brightpearl, which will help them gain more marketshare in the retail market.
This article outlines the top 10 ERP vendors for 2023 that should be part of your evaluation. To finalize this list, we have analyzed hundreds of ERP vendors and their capabilities through publicly available information. Along with our teams' experience in evaluating these ERP systems for our customers. The purpose of this article is not to recommend these vendors. You must carefully analyze your requirements. And find a suitable vendor to help build your enterprise and information architecture. Also, note that this article lists the ERP vendors instead of the ERP products. An ERP vendor may have a dominant product. But if they don't have enough market share, they might not score as high on this list.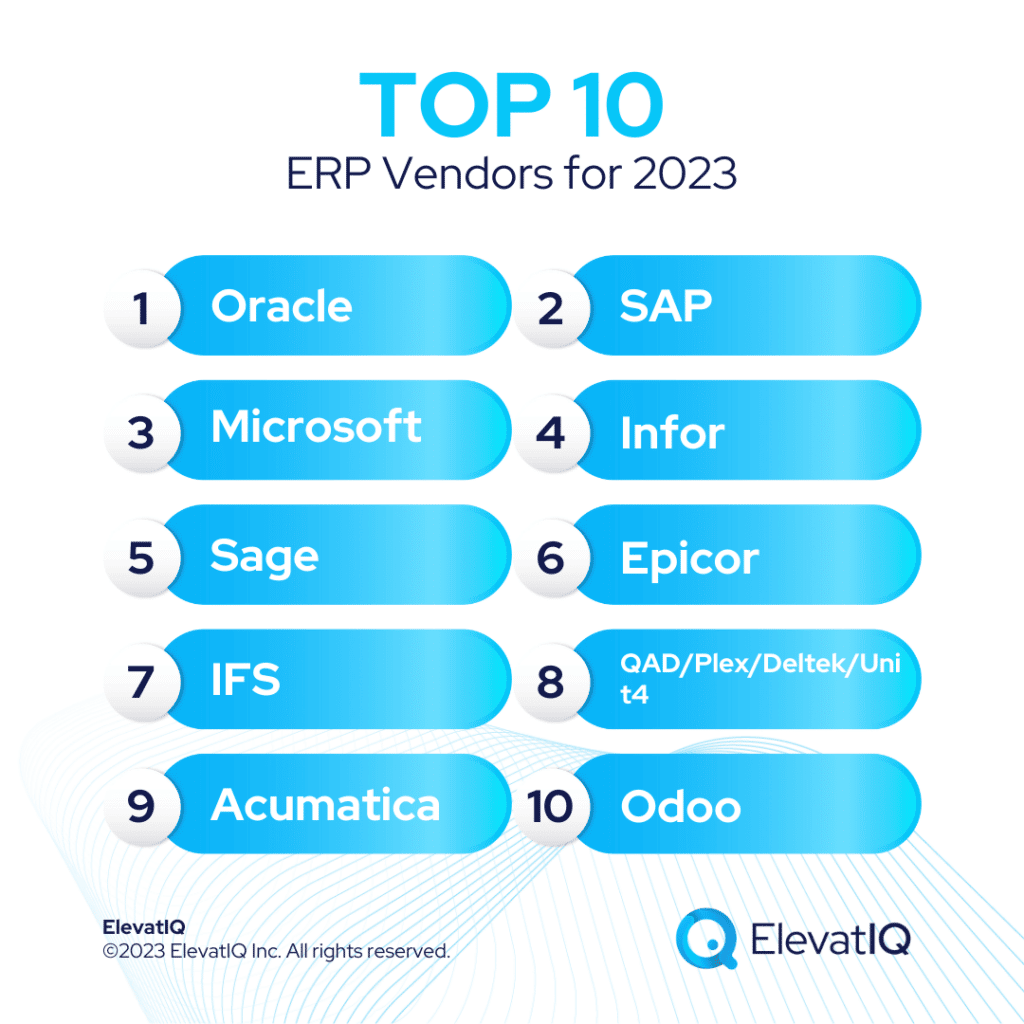 Criteria
Overall market share attributable to ERP offerings. How large is the market share of this company in the ERP market? The higher the market share, the higher the company ranks on our list.
Potential growth/funding/valuation. How much was the last funding round? How much did they sell for? And how much was it valued in the last deal? The higher the valuation, the higher it ranks on our list.
Product and acquisition Strategy. Which company did they acquire last? Was it to fill a strategic hole in the ERP product portfolio? The more aligned the acquisition strategy with the ERP, the higher it ranks on our list.
Depth of cloud-native capabilities provided out of the box. How behind are they with their cloud-native capabilities? The more advanced the capabilities, the higher it ranks on our list.
Product mix to support best-of-breed or full-suite architecture. The more complete the portfolio with different models, such as best-of-breed architecture with the ability to win deals with follow-on products, the higher it ranks on our list.
Company ownership. Owned by a PE company? The strategy may change with the new owner. Owned by a strategic long-term corporate investor or an enterprise software company? The more the vendor is aligned with the investment firm's strategy, the higher it ranks on our list. 10. Odoo
Odoo has become an extremely popular option for companies that need robust financial capabilities in the SMB space. The product's design is simple, just like QuickBooks. It allows founders and startup executives to implement it without expensive implementation dollars.
The company recently received $225 million in funding (and unicorn status) and a valuation of $2.3 billion. In addition, Odoo boasts over 7 million users on the platform. With this valuation, Odoo's valuation would be closer to QAD and Deltek, as per the valuation of their last sale price. Both were closer to $2B. It's almost surprising to see how quickly Odoo has grown and is valued at half of Epicor's valuation (as per their last deal). Also, Odoo has received much higher funding than Acumatica, and its valuation is higher than Sage Intacct.
In 2022, the company has made several advancements, such as aligning with larger banks. As well as with consulting companies to be their go-to accounting solution. But the product offering is still very lean, with operational functionality required for larger companies. While they are a vendor to watch, their advancements have not been material enough to impact their rankings in 2023. For these reasons, Odoo still maintains the number #10 rank among the top ERP vendors for 2023.
9. Acumatica
It's hard to get a spot among the top 10 ERP vendors when their revenue may be under $100 million. But Acumatica is one of three cloud-native ERP vendors along with NetSuite and Sage Intacct. While there has been a significant discrepancy between Sage Intacct's valuation at $850M and NetSuite at $9.3B, their number of customers wasn't too far off. Acumatica is likely to have a similar or higher market valuation based on its momentum in the market.
In 2022, Acumatica has made several notable changes such as hiring a new CEO for the next stage of its growth. They also have better alignment with Shopify as Shopify tries to get market share in the B2B space.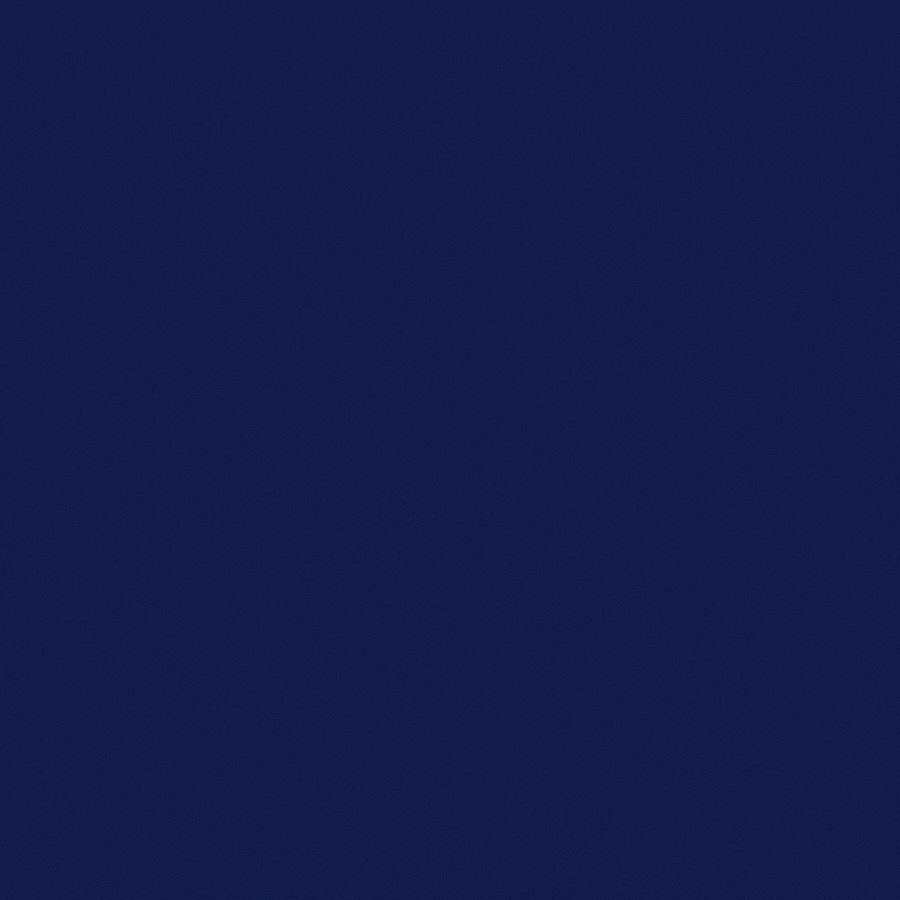 But overall, Acumatica has not made any massive changes for them to drive substantial revenue, and in order to compete with larger ERP vendors. Also, as per the recent announcements, Acumatica plans to be the solution for the mid-market, without substantial global capabilities natively. This might put them at disadvantage with other larger competitors to get their market share. That said, Acumatica is still a vendor to watch and maintains the same rank as last year for the top ERP vendors in 2023.
8.QAD/Plex/Deltek/Unit4
There is no clear winner for #8 because these companies are similar as they don't have the clear authority and strategy as the other ERP vendors. There have also not been any material developments with these ERP vendors in 2022. The only changes were with Deltek and Unit4. Unit4 acquired Scanmarket to deepen its strategic sourcing capabilities. And Deltek acquired TIP technologies to get MES capabilities. Plex and QAD have not made any material movements, except Plex getting their annual conference RokLive. All in all, these changes are not material enough to impact their rankings for 2023.
Also, these ERP vendors are in a similar category as they are all under a billion dollars in revenue. They are targeted for focused markets and don't have as diverse offerings as other competing vendors such as SAP, Microsoft, or Oracle. But this makes it easier for them to compete with larger ERP vendors and win against them.
Among these four, Plex and QAD seem to be the least exciting. But QAD is in Thoma Bravo's portfolio and Plex is owned by Rockwell. So there is a very good chance that we might see some aggressive developments with these solutions. But there is also a very good chance that they might fall off our next year's list (due to the lack of momentum in their ecosystems). Since we don't have a clear direction for these companies, they still have a tie and maintain at #8 ranking on our list of the top 10 ERP vendors for 2023.
7. IFS
While IFS has a similar strategy as QAD, Deltek, and Unit4, it is higher in revenue. But it is still not in the $1B+ club yet. It has been winning large airline and MRO logos that traditionally belonged to SAP. In 2022, IFS also won several large logos in the tech space. These accounts might have large fleets of service technicians. It's a positive sign for IFS to be able to win over Salesforce and Workday in these accounts.
In 2022, they also realigned their strategy for the larger accounts. Finally, they acquired Ultimo, which would help them compete in large accounts in more industries. The industries such as Chemicals, Energy, Logistics, and potentially Healthcare. These accounts traditionally belonged to Infor. So it's a positive sign for IFS that they will be able to compete in broader markets.
IFS has a similar strategy as some of the other niche vendors such as Infor, Epicor, Aptean, Deltek, and ECi. But most of them have overlapping offerings, primarily covering manufacturing and distribution industries. IFS, on the other hand, is unique and strong in large accounts in the MRO and Airline space. And is likely to continue to win in these accounts against other vanilla vendors such as SAP and Oracle. Because of these reasons, IFS still maintains the #7 position on our list of top 10 ERP vendors for 2023.
6. Epicor
While Epicor doesn't have a place in the $1B+ revenue club with other vendors such as Sage and Infor, Epicor has much higher revenue and valuation than their focused peers such as QAD, Plex, Deltek, and Unit4. Epicor also seems to have a superior product and acquisition strategy aligned with dominating specific micro-verticals, which are harder to win for Acumatica or NetSuite as they would require more add-ons to work in those industries.
While Epicor might not win deals as large as Infor, it has a similar strategy in the smaller accounts by providing complete Industry solutions. Epicor is also very strong in some industries where they need unique functionality. And is very well-penetrated (and integrated) into several distribution and manufacturing ecosystems. In industries such as HVAC and industrial distribution, at times Epicor becomes the only choice. Why? Because the other solutions would require substantial custom development or add-ons, for them to work in these industries. Epicor is also perhaps the only vendor that has a true MES offering integrated with a solid ERP. And that makes it ideal for companies for which shop floor efficiencies would be the most critical success factor. Along with constraint-based scheduling, where vendors such as IFS would struggle.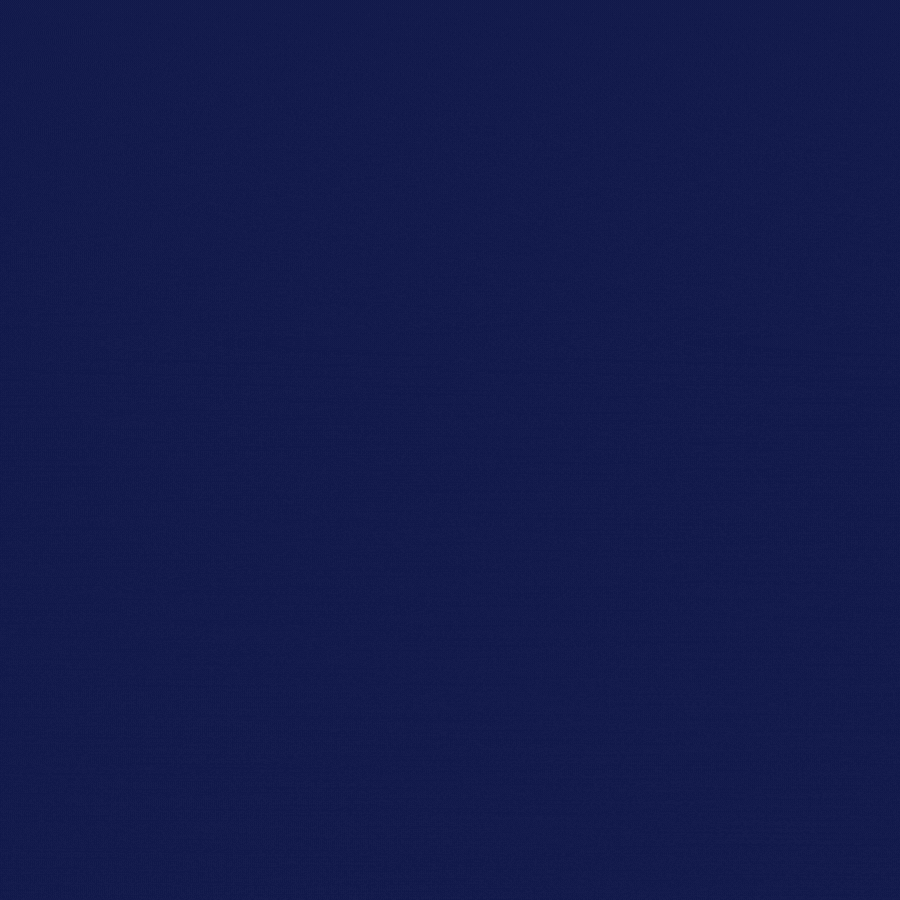 Epicor has also made substantial progress with the cloud-native architecture for its major products. That said, Epicor products struggle with complex manufacturing industries. And they have started facing steep competition in the light manufacturing and distribution industries with newer entrants such as Acumatica, NetSuite, and Odoo. So there is a chance that they might lose significant market share in the next few years. But for now, Epicor still maintains the #6 rank on our list of the top ERP vendors.
5. Sage
Sage is closer in revenue with Infor but higher than Epicor. It has grabbed the cloud-native opportunity with the smart and timely acquisition of Sage Intacct and has a clear strategy for market penetration and growth. With the Brightpearl acquisition, one of the leading cloud-native solutions for B2C and D2C verticals, Sage is likely to grab market share from NetSuite and Acumatica in the retail market. It is also likely to grab marketshare from Microsoft Dynamics Business Central where Omnichannel architecture is a priority. And at times Microsoft BC was the only choice for grocery and FMCG verticals due to LS Retail being pre-integrated.
Traditionally construction being Sage's primary market, Sage may have lost some of its marketshare to Acumatica as they have been very aggressive in ruling it. In addition, Sage has one of the strongest penetration in the accounting community and is likely to be a favored solution by accountants. They would continue to enjoy this dominance unless the other vendors with consumer-centric offerings that primarily target accountants (such as QuickBooks, Xero, or Zoho) develop deeper ERP capabilities. The consumer-centric vendors are highly unlikely to develop these offerings as selling ERP is a very different distribution model than an accounting solution.
The only exception in this list could be Zoho, which has been trying to move up the value chain with similar integrated offerings as Odoo. The biggest threat for Sage right now are Odoo, Zoho, and Acumatica. For these reasons, Sage still maintains the #5 rank on our list of the top 10 ERP vendors for 2023.
4. Infor
Infor's current revenue is higher than Sage and Epicor but lower than other larger ERP vendors. Infor has a complete product suite to meet the needs of an enterprise similar to Epicor, SAP, Oracle, or Microsoft. While the products may not be as globalized as SAP or Oracle, they fit the need of specific verticals. Infor is also perhaps the only vendor after the larger ones that have capabilities to build best-of-breed architecture similar to SAP, Oracle, and Microsoft. In fact, Infor might have deeper capabilities than Microsoft in some areas with pre-integrated best-of-breed solutions such as Infor WFM and Nexus.
Infor is also the only vendor that can provide depth in several industries while not struggling with the transactional processing requirements of large accounts. The smaller solutions such as Epicor or Aptean typically struggle in processing MRP and scheduling engines for global companies. For the industries such as Fashion, Aerospace, Automotive, Aftermarket, Utility, Water, and Healthcare, they have deep capabilities. These capabilities might take forever to build in vanilla solutions such as SAP, Oracle, or Microsoft.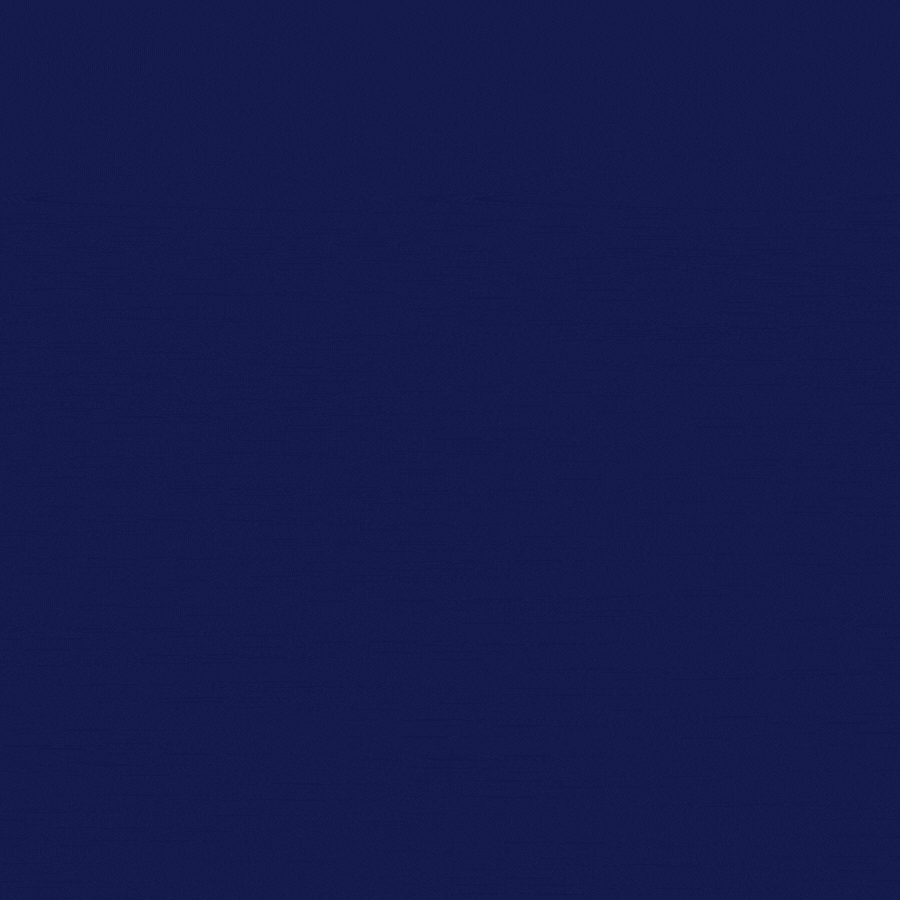 While Infor hasn't been active in the acquisition space, they have acquired Lighthouse in 2022, which is likely to be integrated with most of their industrial solutions. Once integrated, Infor might be able to offer the most complete solution for the Indsutry4.0 scenario that other vendors can hardly match. While there have been some exciting developments with Infor, they are not material enough for them to beat the larger vendors. And for this reason, they still maintain the #4 rank for the top 10 ERP vendors for 2023.
3. Microsoft
Microsoft has been aggressive in developing its cloud-native functionality for its two leading products, Microsoft Dynamics 365 F&O and Business Central. Like SAP and Oracle, Microsoft has several best-of-breed applications required for enterprise architecture, including their dominance with Azure as being among the top two infrastructure platforms. And the native integration with Microsoft 365 Suite.
Microsoft is ahead with its cloud-native capabilities for its F&O product compared to SAP. And may be slightly behind Oracle. Microsoft is also at #2 in the CRM market and competes head-to-head with Salesforce. So the accounts that are likely to prefer Salesforce are likely to go with SAP or Oracle. So this puts Microsoft at a disadvantage in the ERP market. But Microsoft has one of the strongest developer and marketplace ecosystems. They have vendors such as Aptean developing industry functionality on top of Microsoft solutions. Also, finding pre-integrated add-ons is far easier in Microsoft than with any other ecosystems. The only other vendors that can beat Microsoft with its ecosystem would be NetSuite/Oracle or Acumatica. But even they are not as prolific as Microsoft.
Microsoft is also one of the most globalized and localized solutions, with talent available virtually in any country or language. This provides Microsoft with an unbeatable competitive advantage, at least in the upper-mid market segment where the financial traceability and processing power of SAP may not be a requirement. For these reasons, Microsoft still maintains the #3 rank for the top 10 ERP vendors for 2023.
2. SAP
SAP still has the largest market share in the ERP market. And has applications in its portfolio with superior capabilities for best-of-breed architecture, compared to most other top ERP vendors. The architecture that goes along with S/4 HANA Suite that enterprise-grade companies are likely to prefer. For example, in 2022, SAP Hybris has made substantial advancements with headless and omnichannel capabilities, when Oracle is expected to kill its Oracle Commerce product.
When we look at SAP SuccessFactors, it has a superior UI to the clunky interface of the Oracle Cloud HCM product. As for the SAP EWM product, it has a wider adoption with companies heavy in the supply chain than Oracle. Why? Because SAP EWM can support distributed logistics architecture than being tightly coupled with the ERP. SAP Ariba has a much higher win rate for companies looking for enterprise P2P solutions than Oracle's legacy solution. In terms of best-of-breed T&E capabilities, SAP Concur is still the gold standard for T&E among CFOs. But most importantly, SAP solutions still have one of the best financial traceability built as part of the core product required for companies that need to comply with SOX compliance. Or are publicly traded.
While SAP has great best-of-breed offerings, they are still behind in cloud functionality. As well as with their mid-market products. For these reasons, SAP still maintains the #2 rank in the top 10 ERP vendors for 2023.
1. Oracle
Oracle has two leading cloud ERP products in the form of Oracle Cloud ERP and NetSuite, and they are both significantly advanced in their cloud ERP capabilities. NetSuite is a global, localized solution with operationally deep capabilities, ideal for small to upper mid-market companies.
Oracle has also been winning in large accounts that require deeper cloud and operational capabilities as part of the core ERP suite. Oracle is especially strong with companies where they might have robust IT departments with depth in Java and Oracle databases. These accounts also need to maintain a large share of custom-developed apps that they might sell as part of their offerings. For example, accounts such as Media, Telecom, Energy, Financial Services, and Utility are likely to have depth with their internal IT departments. Oracle is also expected to be a go-to solution for the healthcare verticals because of its Cerner acquisition. Compared to other ERP vendors, Oracle also has a very unique position in the market with the success of its mid-market solution: NetSuite. They have equal dominance in both enterprises as well as mid-market.
While they might not be as strong with the core ERP industries in the enterprise accounts, they still have one of the largest marketshare and ecosystems that provide them an edge compared to other ERP vendors on this list. For these reasons, Oracle maintains the #1 rank among the top 10 ERP vendors for 2023.
Conclusion
ERP market is highly competitive. And it's hard to penetrate due to the barriers from existing ERP vendors. It is very difficult for newer entrants to grow and survive in the ERP industry unless they are backed by large corporate houses or private equity. The investors with clout on their vendor ecosystems influence ERP deals. The other best-of-breed vendors, such as CRM or HCM, also create enough barriers and alliances, making it even more difficult. These factors make the ERP market highly unpredictable — and perhaps "biased" toward the larger vendors, who are likely to have deep pockets (and massive influence over ecosystems and communities).
ERP market has never been a true product play. And it will never be — due to the moving pieces (and the "political" elements involved in deals). So it is in your best interest to go for the larger ERP vendors — as long as they can provide the deep industry functionality you need, to avoid disruptions with your product or the vendor. And hopefully, this list will provide you with a guide on how you should be investing your money, whether your goal is to build your career or set the enterprise architecture foundation for your company.
FAQs