When we think of business management or ERP systems, we think of them as being hard. Hard at pretty much everything: 1) Hard to use. 2) Hard to implement. 3) Hard to maintain. 4) Hard to learn. In fact, there has been a common agreement in the ERP community. That is? ERP systems are not meant to be easy. Acumatica changes this.
It has changed the whole ERP buying and implementation experience? So much so that I have personally never heard the word "HARD" being referred to with Acumatica at all. When we ask our customers about their experience with Acumatica, this is what they say. 1) Easy to use. 2) Easy to implement. 3) Easy to maintain. 4) Easy to learn. What makes Acumatica so easy to use?
While there are so many great things about Acumatica and why it is so easy at everything, we are going to cover just one feature as part of this article, which is quickly processing a sales order with one click, which is also the bulk of O2C (Order-to-cash) process.
In other similar systems, to complete an O2C transaction, you might have to remember multiple commands, memorize several screen names, and perform tons of chores before you can close your invoice or fulfill the order. The experience was closer to preparing for an exam.
In fact, in the older days, when a new employee joined an ERP project, it would take several days for them just to master this process in an ERP system. But why would Acumatica be any different?
It is the design philosophy
The reason why we wanted to cover this specific scenario is not that this is the most compelling feature of Acumatica but to demonstrate the whole design and user experience philosophy of Acumatica. In fact, this is the mindset they have used to design the whole platform.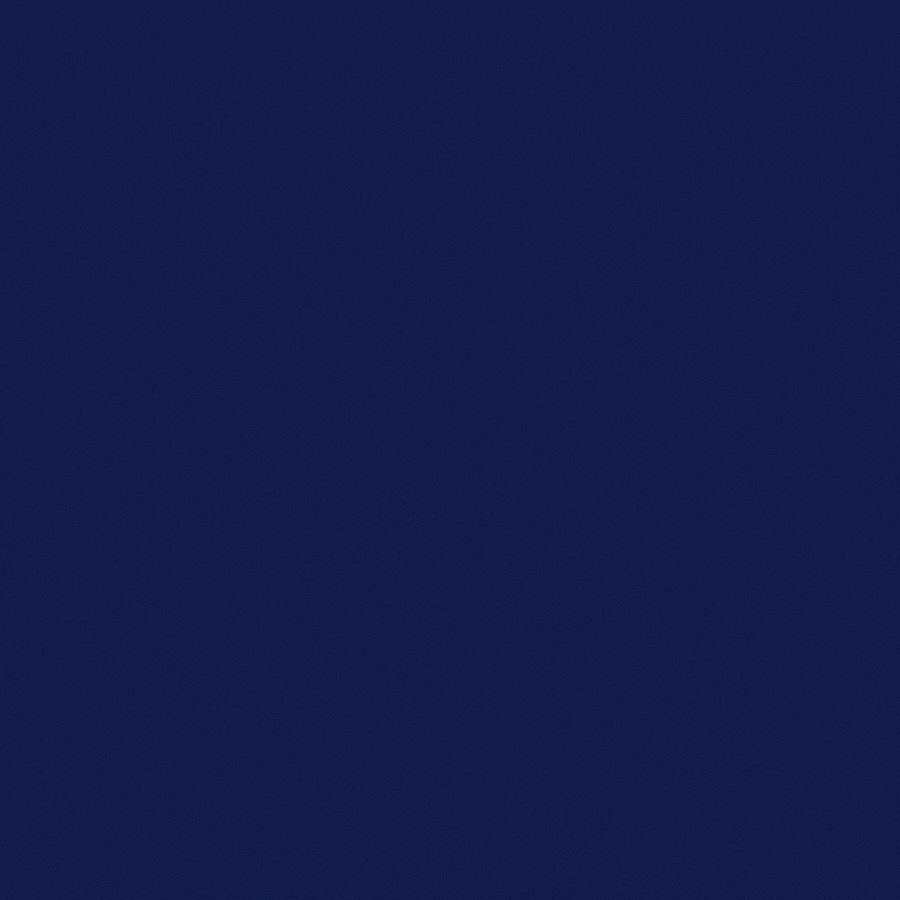 They continue using these principles as they release industry-specific editions with last-mile functionality for several industries and build deeper capabilities. This is probably the reason why it is the fastest-growing cloud ERP system.
If you are not familiar with an O2C transaction of an ERP system, it would be your entire order fulfillment process where the sales team would kick off the process by capturing an order in the ERP system, which would be followed by releasing the order for the operations team to pick-pack-and-ship (or for the production team to manufacture and then followed by the operations team to complete their processes if you are a manufacturing company), and finally, once the shipping is complete, it would be released to the finance team to close the transaction.
This process is applicable in most order-driven industries whether we talk about simpler businesses such as retail and distribution, or complex manufacturing businesses such as industrial automation, machinery, automotive, building materials, food & beverage, or life sciences.
Now you might argue that the one-click process may not be sufficient due to process complexity for a lot of these businesses. We agree with your assessment but the goal of this article is not to show you features that might be relevant to specific industries but to demonstrate Acumatica's design philosophy using a very simple feature or an idea.
One-click Process of Acumatica
On the sales order screen, choose a customer, select an item, and quantity.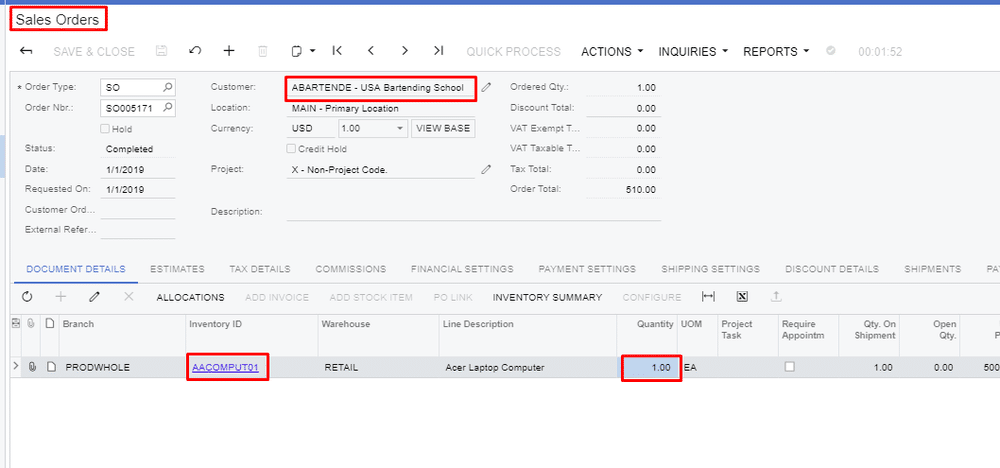 Then hit "Quick Process" This is the one-click step, which is the only click that is required to complete the entire transaction.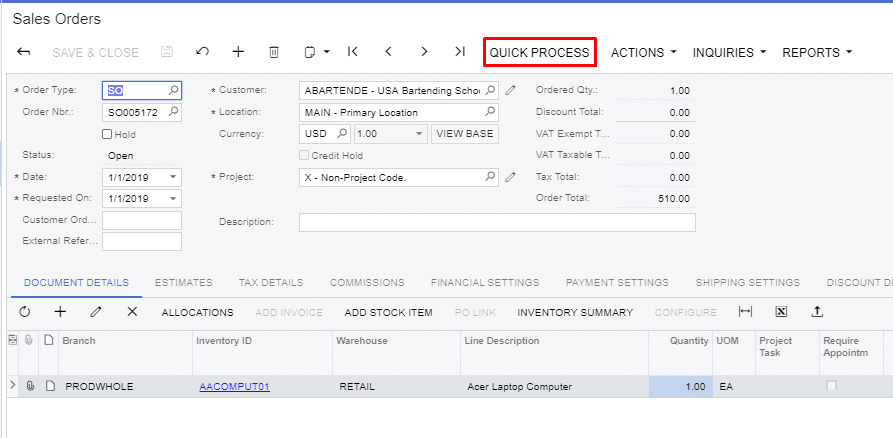 Choose all processing options such as releasing the invoice, emailing the invoice, etc you want to perform as part of this step and then hit OK.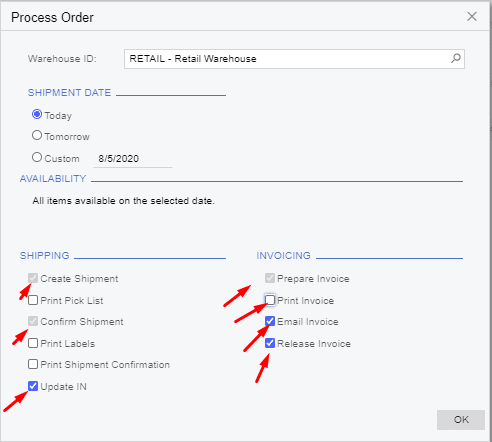 You will see the following screen once the transaction is completed. And you will note that it has finished the entire process including creating shipment documents, generating invoices, etc.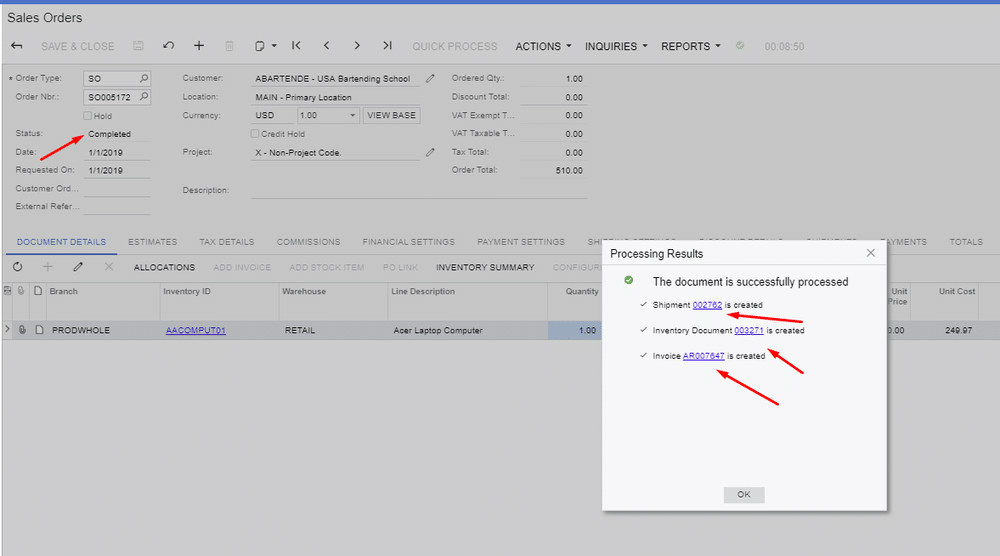 The ease of use has financial benefits too
Processes such as these are built throughout the system to reduce the number of clicks a user has to perform their job. This helps with learning the system faster, as well as making the users efficient and reducing the implementation time. This is also the reason why Acumatica provides better ROI and lower total cost of ownership (TCO) compared to other systems.
Conclusion
Unlike other ERP systems, Acumatica is easy-to-use. It's especially helpful for businesses that may be implementing an ERP system for the first time and might be outgrowing smaller accounting systems such as Quickbooks, Xero, or Sage. With Acumatica, not only you can ramp up your teams on a new ERP system quickly, but you can also integrate your end-to-end processes. Finally, if you are a simple business with not a very complex order-to-cash cycle, the one-click feature is extremely handy to ensure that you are enabling your employees with the quickest way of completing their jobs without the system coming in their way.
Now that you know a little about Acumatica, make sure you include it as part of your next evaluation process.