Finding a suitable ERP system for your company and going through the long ERP purchase process could be stressful. And frightening. Because of the unforeseen risks and required persuasion. The first time is even more difficult. So want to know how to start the process? The first question you might have is about the steps involved in the ERP purchase process.
While the process may vary depending on your industry's unique requirements or business situation, there are similarities. And this comprehensive review will help you understand the commonly used stages involved. As well as your roles and responsibilities in the process, and strategies for championing internally with success.
Generally, the ERP purchase process contains the following phases for an SME buyer:
Introduction call
Detailed discovery with the champion
High-level demo
Site visit
Detailed discovery with individual SMEs
Scripted demo
Optional: POC/Technical integration demo
Optional: Day-in-the-life demo
Scope discussion
SOW walkthrough and negotiation 1. Introduction call
The ERP Purchase Process typically begins with an introduction call with an ERP consultant. The purpose? To assess if their products might be the right fit for your needs. This call will identify a few ERP consultants you may want to potentially select for the next round. Most ERP consultants will keep these calls brief for 30-45 mins over the phone.
If you are talking to an ERP publisher directly, the first few calls would be to assess your needs. And identify a suitable product before introducing you to a solution consultant or a reseller. Some famous publishers include Infor, Acumatica, Sage, SAP, Oracle, Microsoft, etc.
Tip: If you are not familiar with ERP publishers and resellers' relationships, publishers produce the product. In contrast, resellers are local distributors responsible for reselling them. Since resellers' business models allow them to serve their local customers at much lower costs with specific expertise for your industry and geography, most ERP publishers don't sell directly to consumers like you. For this reason, you need to work with a consulting company or a reseller. You might be able to save some time for yourself by calling a reseller directly. And avoiding the process of a fortune-500 company, as most publishers are relatively large organizations and busy chasing much bigger customers.
As you progress with your discussions, you may want to create a sheet similar to below to keep track of things and your ERP purchase process organized.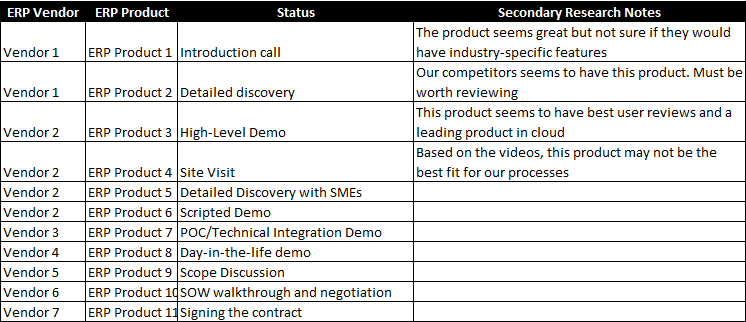 Tip: Note that secondary research is one of the most critical columns of this sheet. While resellers might answer most of your questions during your calls with them, the secondary research column would help assess their credibility. And vet their knowledge of the market and their products. We recommend performing this research before contacting them by reading credible blog sources such as ElevatIQ. As well as watching YouTube videos, and reading online reviews on G2Crowd and Capterra.
While we have shown ten different consultants in the above sheet, our recommendation would be to assess the time you want to spend on your ERP purchase process. And, accordingly, choose the number of consultants accordingly.
Some customers like to select five to six consultants initially, while others opt for more. As for the initial screening, closer to five is a good number without wasting unnecessary time while having enough samples for your comprehensive review.
Tip: If a partner seems to be overcommitting with your demands, it's very likely that they might just be overpromising. And it might increase the risk of delivery. Understanding these nuances could help find the right partner for your project.
After finalizing the consultants' list for the next round, you might want to develop an initial matrix to compare the consultants' capabilities. This matrix will evolve as you conduct more discussions. The most efficient matrix is straightforward from our experience. Focusing primarily on the most critical success factors essential for your business operations.
For example, are some of your production processes outsourced? The product under consideration may not work for your business processes if it doesn't support outside process management capability. On the other hand, if you have to opt between e-commerce and payroll integration, you may want to select e-commerce integration over payroll if your business is customer-facing, high volume with fewer employees. Similarly, payroll integration may be more critical for you if your business is service-oriented with low volume.
Once you have concluded calls with all of your consultants, you might want to document a refined understanding of your needs. And compare them with your initial secondary research. If a consultant is too far off with their claims, they may not be the best fit. Why? Because they might be overselling their capabilities.
2. Detailed discovery with the champion
After the initial intro call, where the intent is to assess the fit, the discovery call is slightly detailed. The purpose of a discovery call is three-fold:
Continue evaluating if the product remains fit for your business
Alignment on the size and complexity of your project
The initial discovery calls could be up to two to four hrs long with each consultant and the product. During these calls, the consultant will dig deeper into your business processes such as order-to-cash or procure-to-pay. As well as may invite a few subject matter experts with specific expertise to help from their side.
Their purpose is to get enough details from your side to meet the above three objectives. Not sure about some of their questions? Are these discussions highly detailed? You may want to ask a couple of process owners from your side to join.
Tip: most consultants are likely to have similar questions, so you might want to prepare a brief package right after your first calls to save time. However, the meetings are still necessary to make it interactive with each consultant to ensure that you don't miss critical details and find surprises later.
To provide you a more profound sense of the discovery meeting, below is a sample of questions related to a few business processes the consultants generally ask during their interviews. However, they will tailor these questions based on their understanding of your business.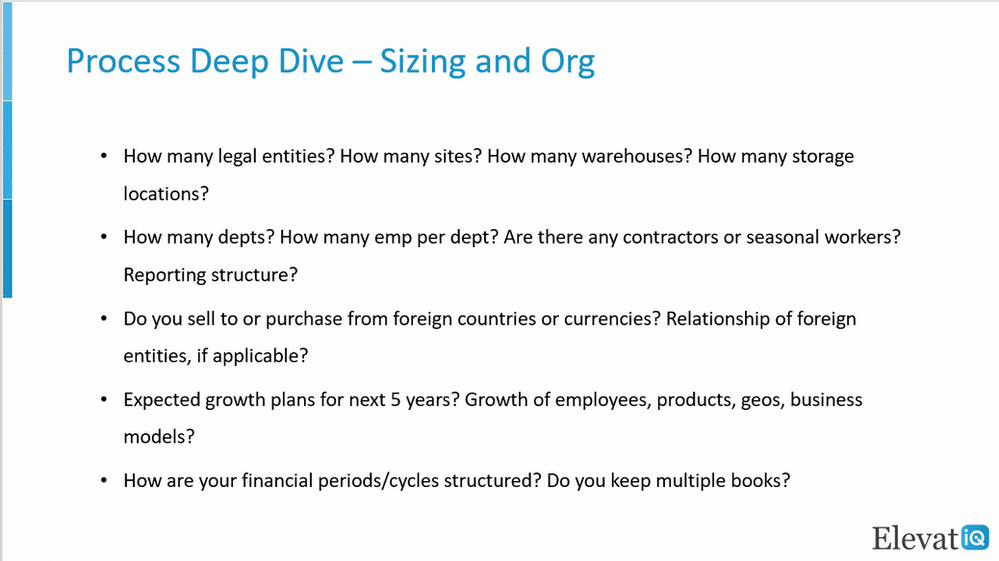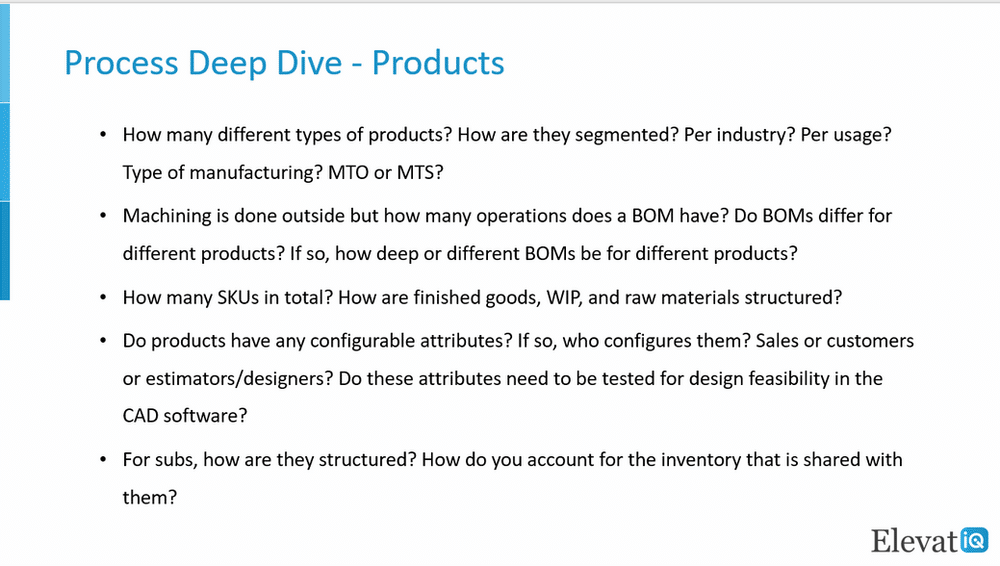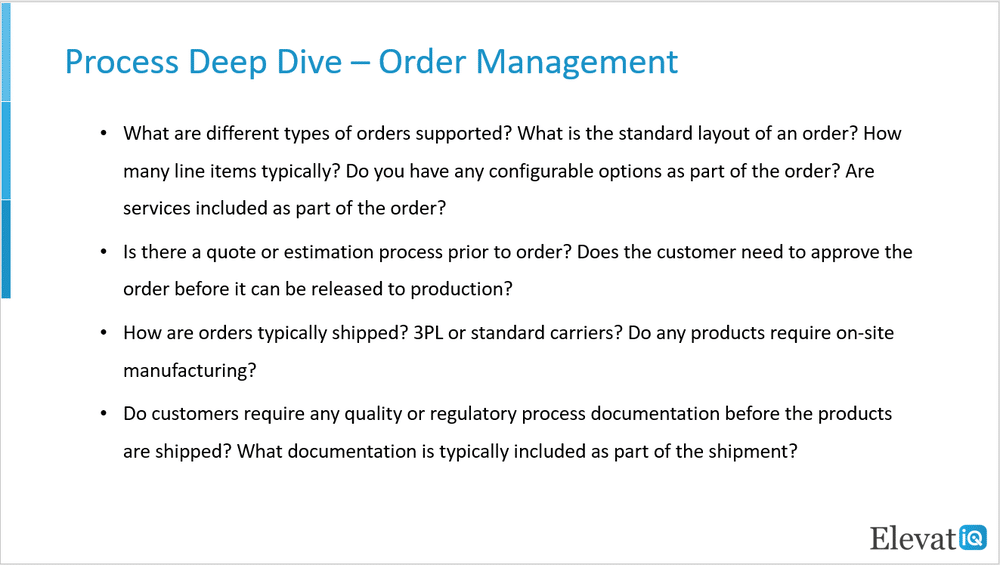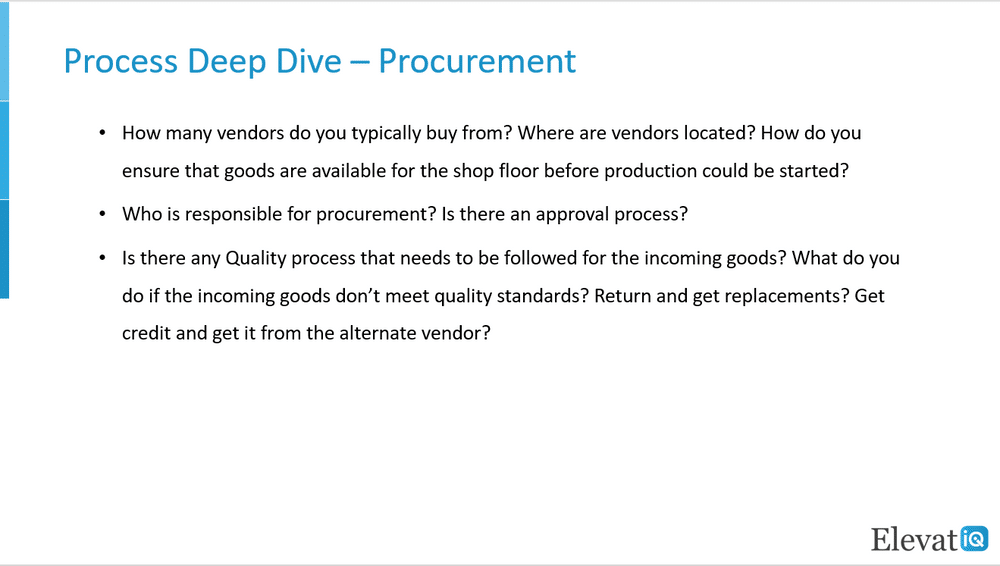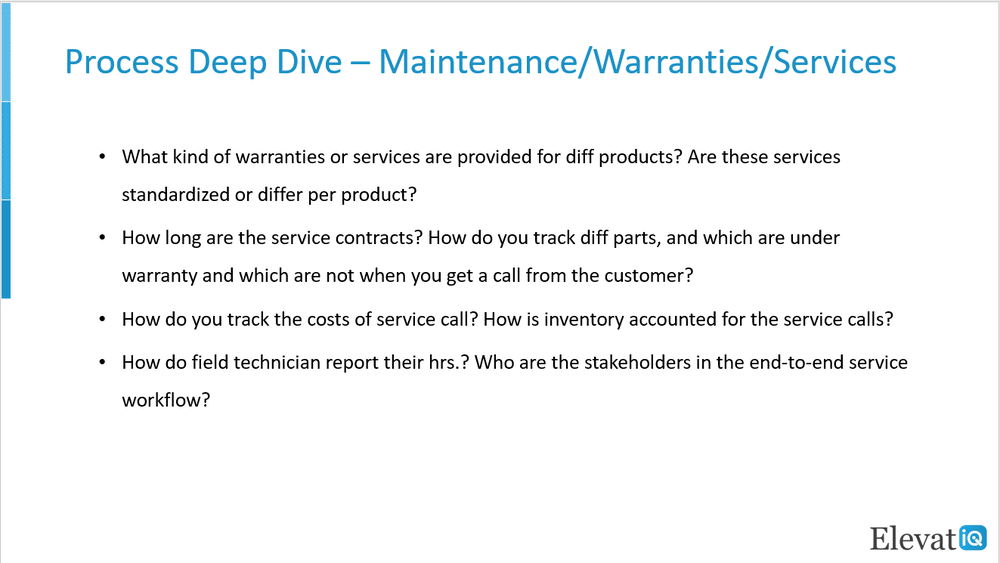 To use your time effectively, most credible consultants pre-research their customers. They might share their understanding to demonstrate their expertise in your industry and save you time in repeating generic details. If a consultant can relate to your business, he/she is likely to be experienced with similar companies or well prepared.
Tip: if a consultant asks unnecessary questions such as "tell me how you do your business, " it could be a red flag as it shows their lack of diligence and preparation on their end.
Upon the conclusion of this call, the consultants might ask you to share sample documents such as sample invoices, order forms, etc., allowing them to do the second-level check and eliminate high-risk areas before committing to showing you a demo in the next step.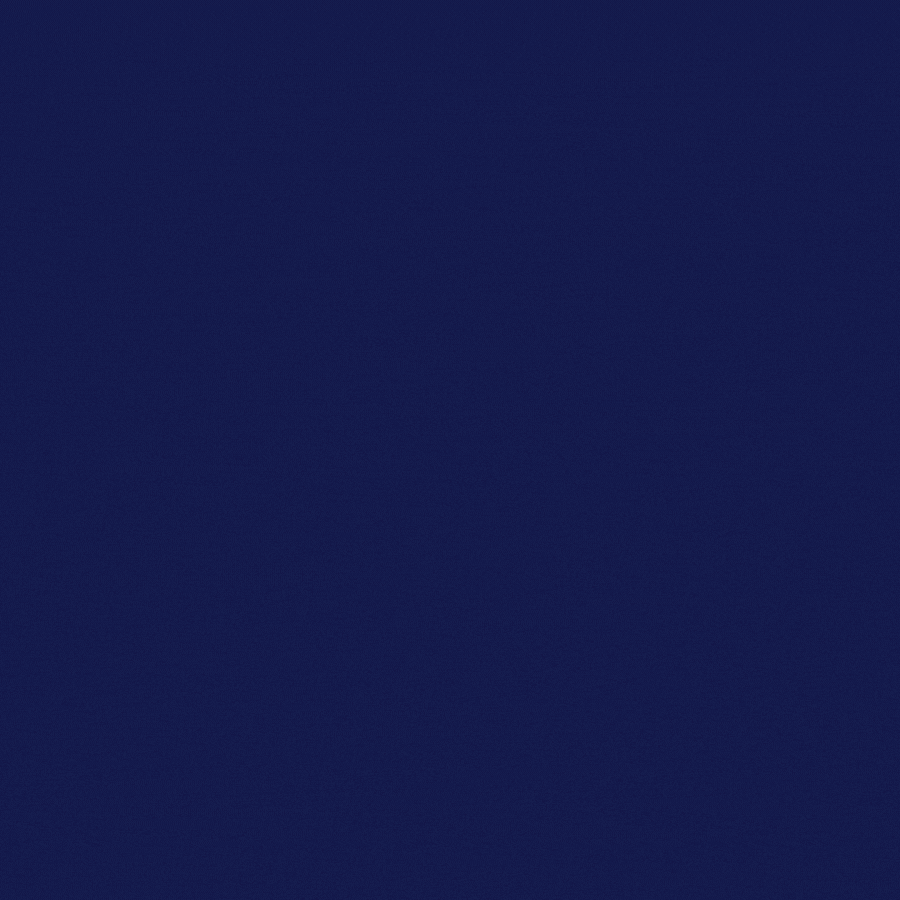 3. High-level demo
In some cases, this step could be part of the stage above, depending upon your preferences and your consultants' approach.
The purpose of this demo is to show you the product without any configuration or customizations tailored to your business process or data. This demo also helps you relate to the previous step's questions better and assess if you are still confident in the product's and consultant's capabilities.
This demo is for the audience who may have prior familiarity with an ERP system such as controllers, CFOs, or IT directors. By contrast, scripted demos described below would be more suited to the audience without any prior background with the ERP systems to help them relate better. For this demo, you may want to invite only a couple of key members.
The phases that follow the high-level demo would require more time commitment from your team members, so you may want to limit the finalists to 3-4 consultants for the next round. However, you may not want to announce the winners just yet in case the primary ones drop out, or you no longer feel comfortable continuing with previously selected consultants.
4. Site visit
This step is the most critical of the discovery process, especially if you are a manufacturing or distribution business. This step helps consultants visualize and understand your business processes by watching the field crew remove the project risks because of miscommunication or misunderstanding.
Tip: If a consultant does not commit to an on-site visit, you might not want to continue with them. An on-site visit helps acquaintance with your consultant better and aligns the project and processes' scope.
This visit could also be an excellent opportunity to introduce your team to consultants to get a second opinion. Sometimes combined with the other steps, this stage could be a perfect opportunity to interview each process owner in detail, do an in-person demo, or collaborate in workshops to understand your business processes better.
5. Detailed discovery with SMEs
As a champion, you might want to watch your team members' time to make the process efficient. The process owners may be busy with their day jobs and might not cooperate with you if you ask for meetings too frequently. For this reason, it is crucial to limit the finalists to 3-4 consultants.
The purpose of these meetings is to get more in-depth insight into high-risk areas. These meetings also allow you to respond to consultants' previously unaddressed questions and validate your shared details. The consultant might want to have a couple of these meetings depending on your process's complexity and your consultant's comfort level.
The consultant might ask to share data from individual process owners for the scripted demo if required. The purpose of this data is to help them visualize the process from their perspective utilizing their data.
This step also provides an opportunity to agree on the demo's scope and structure/scenarios so that there are no surprises during the demo.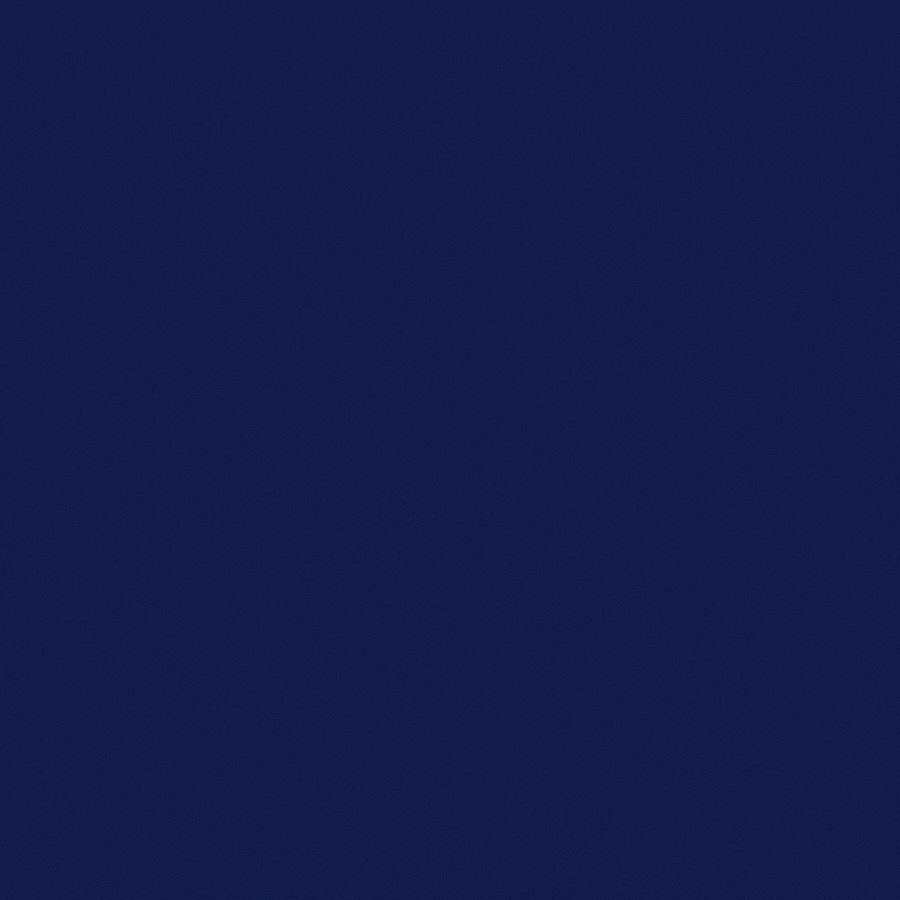 6. Scripted demo
A scripted demo helps you provide a better sense of the platform by tailoring it to your business process and data. This step is perhaps the second most critical step of the ERP purchase process. It will also require the most amount of time from your team.
A scripted demo could be anywhere from 4-8 hrs depending upon the scope of the demo. During this step, the consultant also puts substantial effort, typically 1-2 weeks, to customize the demo instance to agreed sample processes.
This step provides an excellent opportunity for you to invite as many members to offer them first-hand experience tailored to their day jobs. You may like to divide it into phases with specific functional areas (such as finance, manufacturing, sales, and purchasing) and invite appropriate team members to their respective sessions to effectively utilize their time.
This step allows you to uncover risk areas that you may not have thought of before and may want to address them before committing to the product and the partner.
After reviewing the scripted demo of 3-4 finalist consultants, you may want to meet with your team to get a second opinion. Their concerns could be about the capabilities that they didn't quite understand or relate to their functions.
7. Optional: POC/Technical integration demo
This step is typically optional and only applicable if any processes require customizing the product that consultants cannot demo with the out-of-the-box processes.
In that case, you may want the consultant to put together technical feasibility documentation/presentation to ensure that the consultant has thought through the solution and has removed any significant technical risks.
8. Optional: Day-in-the-life demo
This step is also optional and only applicable if your decision-makers can't relate to the product for their day jobs. In this step, the consultant will sit with your teams, such as sales or purchasing, and show them how they would be spending their day with the product.
Some of your team members may not have had an opportunity to talk during the scripted demo. They might be more comfortable sharing their concerns and opinions in these 1:1 meetings.
9. Scope discussion
Before this discussion, the consultant may have presented the ballpark numbers for the implementation.
This discussion allows you to confirm the details such as # of users required, their roles, and appropriate licenses, the modules you would need. It also provides a chance to validate the processes to be implemented, the systems to be integrated, and the data elements you want to migrate.
These details will help the consultant to put together a detailed quote about software as well as implementation.
10. SOW walkthrough and negotiation
During this step, the consultants will prepare a detailed SOW that will include the following topics:
Scope
Implementation plan/schedule
The final quote of the software as well as the implementation
Payment terms and schedule
Details about the training and support
Each consultant will walk you through their proposal. Your goal here should be to engage with a consultant with the most realistic plan and cost expectations.
Each consultant might propose different models of delivering the project. Some consultants might opt for a fixed cost, other ones might go for time and material, while the rest may have a fixed fee per month or day.
Each model has its pros and cons. While the fixed cost model may appear most lucrative from your perspective, it comes with significant challenges and is not the right fit for everyone.
Reviewing these models and their risks will allow you to make a prudent decision for your company.
Conclusion
As with any expensive purchases and initiatives that require cross-functional collaboration, be ready for ups and downs, and embrace it as a learning experience. Once you have gone through the process and felt the benefits first-hand, the process might not feel stressful and frightening.
When you are ready to go through the process, this review will provide a better understanding of the process and help you avoid potential risks.