Looking for an ERP consultant who might be able to answer every question you might have? Well, unfortunately, just like different skill sets exist in a house construction project, ERP projects are no different with their need for digital transformation roles and skill sets. In fact, at a much bigger scale. Also, the more components you have in your architecture, the more skillsets you might require. Because the underlying technologies may be different. And they require years of training and specialization – to hit the ground running from day one, as that would be the expectation from ERP consultants.
Additionally, their educational backgrounds vary. The person who studied Supply Chain is likely to be deeper in the Supply Chain role. The same could apply to accounting and sales processes as well. A weaker chain (or an inexperienced resource) might slow down the whole project as they would need to be coached at every step of the way. Think of coaching basic ERP concepts such as the difference between a receipt and a voucher – and their implications on the process if interchanged. Their decision-making might not be sound either, which might have catastrophic consequences for the project.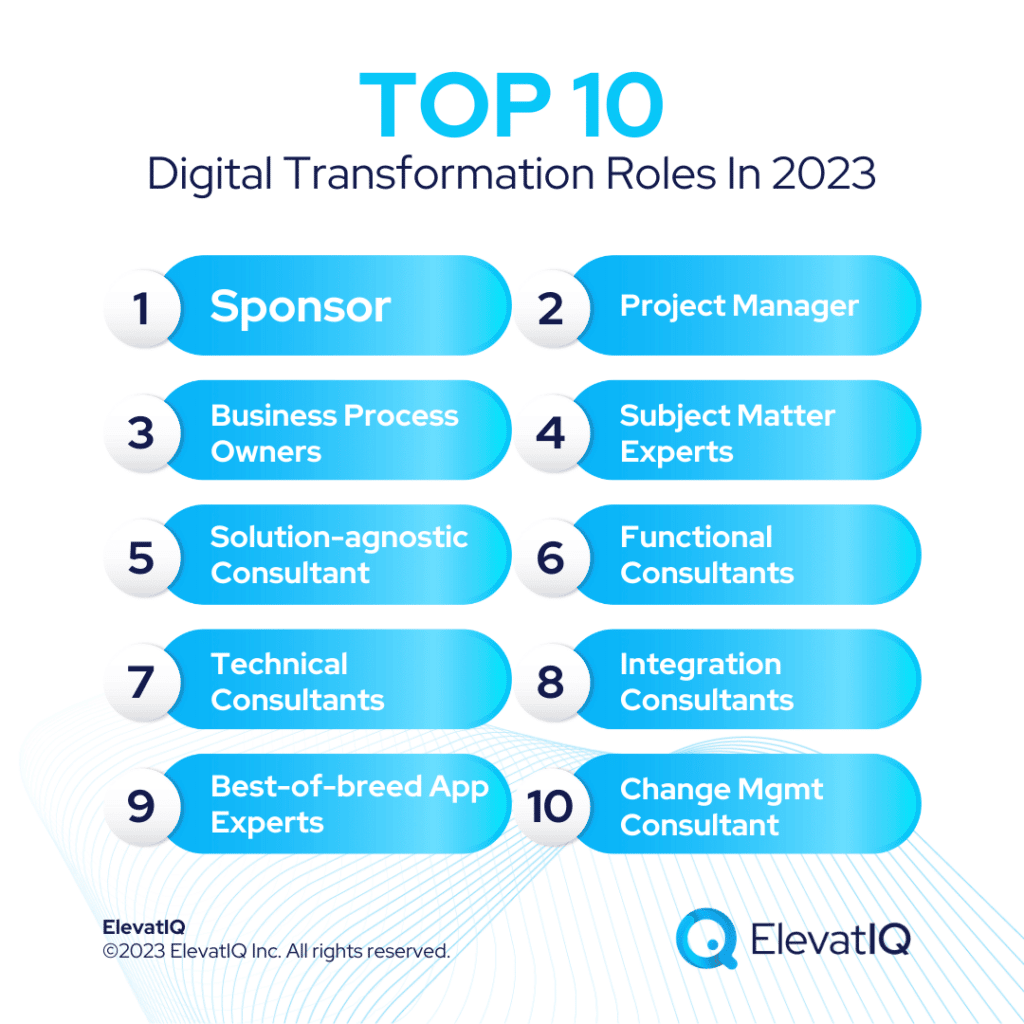 So understanding the importance of each of the digital transformation roles is critical for the success of your digital transformation initiatives. Most digital transformation initiatives fail because of a missing skillset. Or assigning unqualified resources to crucial positions. This is especially important for key cross-functional roles such as project manager or sponsor. These roles are typically more critical than the others such as subject-matter experts. This list will help you understand the different digital transformation roles that might be required for your unique project. 10. Change Management Consultant
The change management consultant drives the entire change management process (and is among one of the most critical digital transformation roles). It starts from the identification of change, creating a business case to justify the change, exploring several change initiatives, and finally implementing and monitoring changes. Depending upon your budget, you might hire a dedicated change consultant or work with an independent ERP consultant. The independent consultants might bundle change management offerings, along with their ERP selection, implementation, and integration expertise.
Irrespective of the approach, change management is absolutely essential for the success of your technology initiatives. The technical vendors (and your internal teams) will struggle with change management due to the "power struggle." So an external change management consultant is recommended. Depending upon the structure of your organization (and the scope of this role), you might need up to 20-25% of their time allocated to the project. With more involvement during the pre-selection phase, as well as the training phase.
9. Best-of-breed Apps and Add-on Experts
The role of best-of-breed apps and add-on experts is to provide the functional and technical expertise of these add-on products. Most ERP consultants are unlikely to have depth with each add-on or application.
So you might need at least the part-time resources that might be familiar with these apps. The more apps you have in your architecture, the more skill sets you might require. And the more part-time resources you are likely to have as part of your project, the harder will be the scheduling, driving the overall costs of the project. Depending upon the structure of your organization (and the scope of this role), you might need a couple of hrs of their time as and when needed. Since these resources could be a true bottleneck to the project planning, you might want to pre-allocate some of their capacity. Or identify areas where their inputs might be required early in the process – to ensure that they are not a showstopper for the project.
8. ERP Integration Consultants
Most ERP applications are huge in size with thousands of tables and modules. The traditional ERP consultants are divided into two streams: functional and technical. The ERP technical consultants specialize in Windows and proprietary database programming of that application. Also, traditional ERP applications were not service-oriented architecture based. So ERP consultants didn't have as strong integration skills. The integration consultants specialize in API integrations, enterprise integration patterns, master data governance, and enterprise architecture.
If you have multiple applications in your architecture, you will need specialized ERP integration consultants. Depending upon the complexity of your architecture and integration requirements, you might need part-time or full-time integration consultants. The integration consultants might also require time from ERP technical or functional consultants – to get help on cross-functional testing (as they might not be as deep functionally with each application in the architecture). So their availability can't be the bottleneck, similar to other cross-functional roles mentioned below.
7. ERP Technical Consultants
ERP technical consultants are the technical expert of specific applications. Each product may have its own technical specialist. For example, the technical consultants that focus on NetSuite might not have experience with Oracle Fusion Cloud. Or vice versa. The technical consultants are also extremely weak in their functional knowledge. And they can't act as a functional consultant due to their limited knowledge. Their educational background is software engineering while the ERP functional consultants are likely to have accounting, industrial engineering, supply chain, or mechanical engineering degree.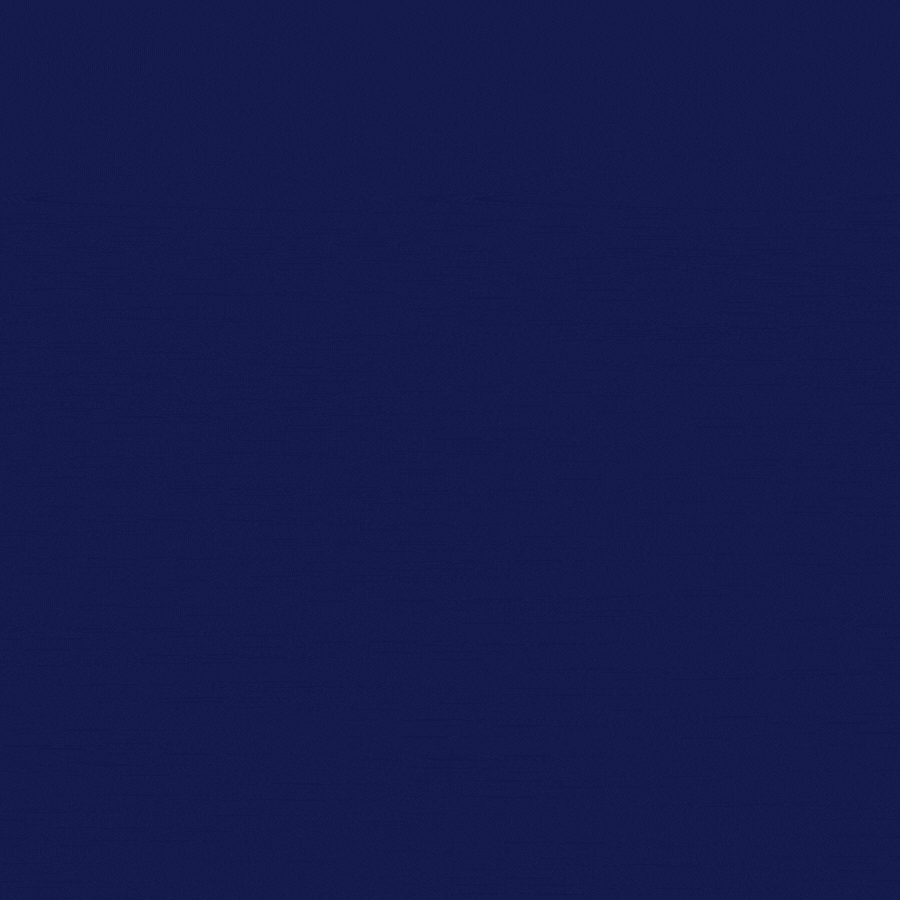 Even among technical consultants, there might be several skill sets such as a report writer, form designer, DBA, or data migration consultants. They each have different expertise and skill sets. Depending upon the customizations expected, the need for technical consultants might vary. Heavier customization would typically require a higher allocation of technical consultants. But technical consultants might not be required for the entire duration of the project. Their need would be more critical during the development phase. Once the customizations stabilize, the functional consultants should be able to handle the project – without their help.
6. ERP Functional Consultants
ERP functional consultants specialize in specific functional areas. The larger the products, the more complex are likely to be the functional processes. And the more consultants you are likely to need. For example, Smaller systems such as NetSuite or Acumatica may require only one functional consultant. Systems such as SAP S/4 HANA, Oracle ERP Cloud, and Microsoft Dynamics F&O, on the other hand, may require several functional consultants. With the specialization in each functional area such as accounting, supply chain, manufacturing, sales, and etc.
Depending upon the complexity of your project, you might need full-time or part-time functional consultants – to test the configurations and resolve functional issues. Their role will also be to assist the principal functional/technical consultant (and project manager) with research and recommendations. Their role would be relevant during the implementation phase, with minimal involvement during the pre-selection phase.
5. Vendor- and Solution-agnostic ERP Consultant/Enterprise Architect/Principal Functional Consultant
Just like you need an architecture for your home or kitchen, you also need for your software and IT applications. The architecture is a blueprint that clearly describes the boundaries of each system and its roles in enterprise architecture. It also describes the interaction flows, with a clear agreement between data producers and custodians. Finally, it defines the model for reconciliation between different systems – should there be a conflict among systems.
Most teams and vendors are likely to create architecture from their perspective. And this often results in application silos, duplication of efforts, overengineering of components, and data issues. This one is perhaps among the most critical digital transformation roles for your project. Some independent ERP consultants might be able to include this role along with their change management expertise. But an external consultant is recommended for this role. Depending upon the complexity of your architecture, you might need at least a part-time resource who acts as the advisor or oversees the overall process. This role is the longest serving role of the ERP project, starting from the beginning of the project, to the post-implementation phase.
4. Internal Subject Matter Experts
These subject matter experts should be the focus of your implementations. Why? Because they need to drive the training and evangelize the change for their internal teams. It's critical that they appreciate and embrace the new platform. These are your internal operational users (such as supply chain managers, ops managers, and sales managers) who have the most depth in the business processes. They provide crucial details that strategic business process owners need to make key decisions.
You need to allocate at least 10-20% of their time for the entire project. And involve them during the selection, process re-engineering, solution design, UAT, and training.
3. Internal Business Process Owners
These are your business processes executives such as VP of Sales, VP of Ops, VP of Engineering, VP of Supply Chain, and VP of Finance who are responsible for making crucial decisions for their respective functions.
They work in conjunction with subject matter experts and make decisions with a strategic perspective in mind. You will need their few hours allocated every week to be part of weekly demos and monthly steering committee meetings. Along with any detailed meetings that may require their input for the to-be state.
2. ERP Project Manager
The ERP project manager is perhaps the second most critical role in your transformation. And ideally must be served by controllers, VP of Finance, CFOs, and sometimes by the CEOs for smaller organizations. They might hire a project coordinator to hand off some of the operational responsibilities if they are too busy with their day jobs.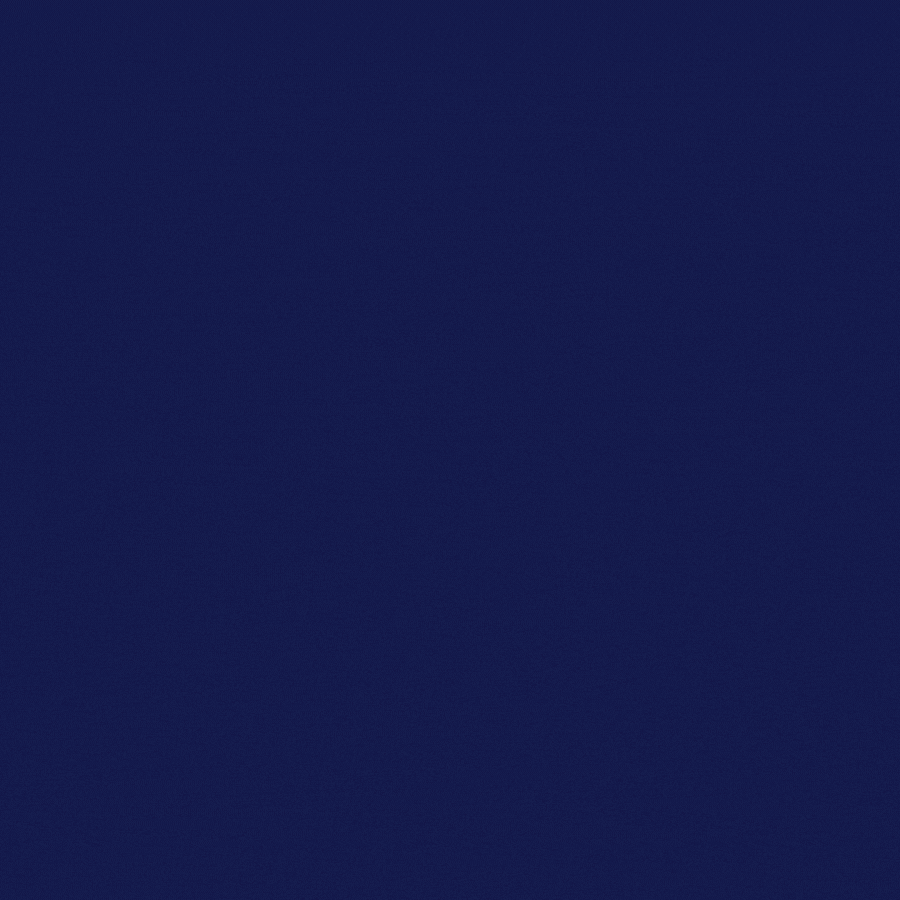 This person is responsible for driving the project and keeping the project under budget and on time. This person must be comfortable negotiating with business process owners in the event of a conflict among different functions. Depending upon the size of the organization, allocate either full-time or 50% to ensure he/she is not the bottleneck for the project.
1. ERP Sponsor
The ERP sponsor is either the CFO, COO, or CEO, depending upon the size of the organization. The role of the sponsor is to set the vision for the project, provide resources, set KPIs to measure success, and help business process owners make key strategic decisions.
Their role is not to make decisions for them. But to ensure that the decisions are consistent with the original vision and the interests of all functions are equally represented in the architecture. The ERP sponsor must participate in the monthly steering committee meetings and will need a few hours of their time each month.
Final Words
Building an ERP project team is art and science, with the expertise to be able to foresee showstoppers before it's too late. The issues could be related to the team or technology. And they each impact the costing and scheduling of the project.
While you will get better with your team-building expertise with experience, don't underestimate the importance of any of the roles mentioned on this list. The primary reason why most organizations struggle with digital transformation initiatives is that they underestimate the effort involved with these initiatives – and try to "outsmart" the process, which fires back more often than not. So be really informed with each of your decisions – as you build your core project team that is capable of delivering on your vision.
FAQs