The construction industry needs specialized construction ERP systems due to the unique requirements for accounting and payroll. And that is probably the reason why accountants need to go through another course on construction accounting if they plan to switch to this industry.
Additionally, any industry that might not be in the core construction business but might barely touch it or sells to it might also inherit a lot of processes from it. For example, the manufacturers that sell to the construction industries might need to go through the same pre-construction, bidding, and submittal process. Similarly, the contractors such as electrical, plumbing, and HVAC might also go through the same process and may require some of these specific feature sets.
For this reason, the ERP systems not designed for construction accounting and industries might feel unnatural. So what are the construction ERP systems and how to evaluate them?
This article outlines the top 10 construction ERP systems that should be part of your evaluation if you are looking for products positioned to be the most successful in 2022. To finalize this list, we have analyzed hundreds of ERP systems and their capabilities through publicly available information. The list also relies on our teams' experience in evaluating these ERP systems for our customers.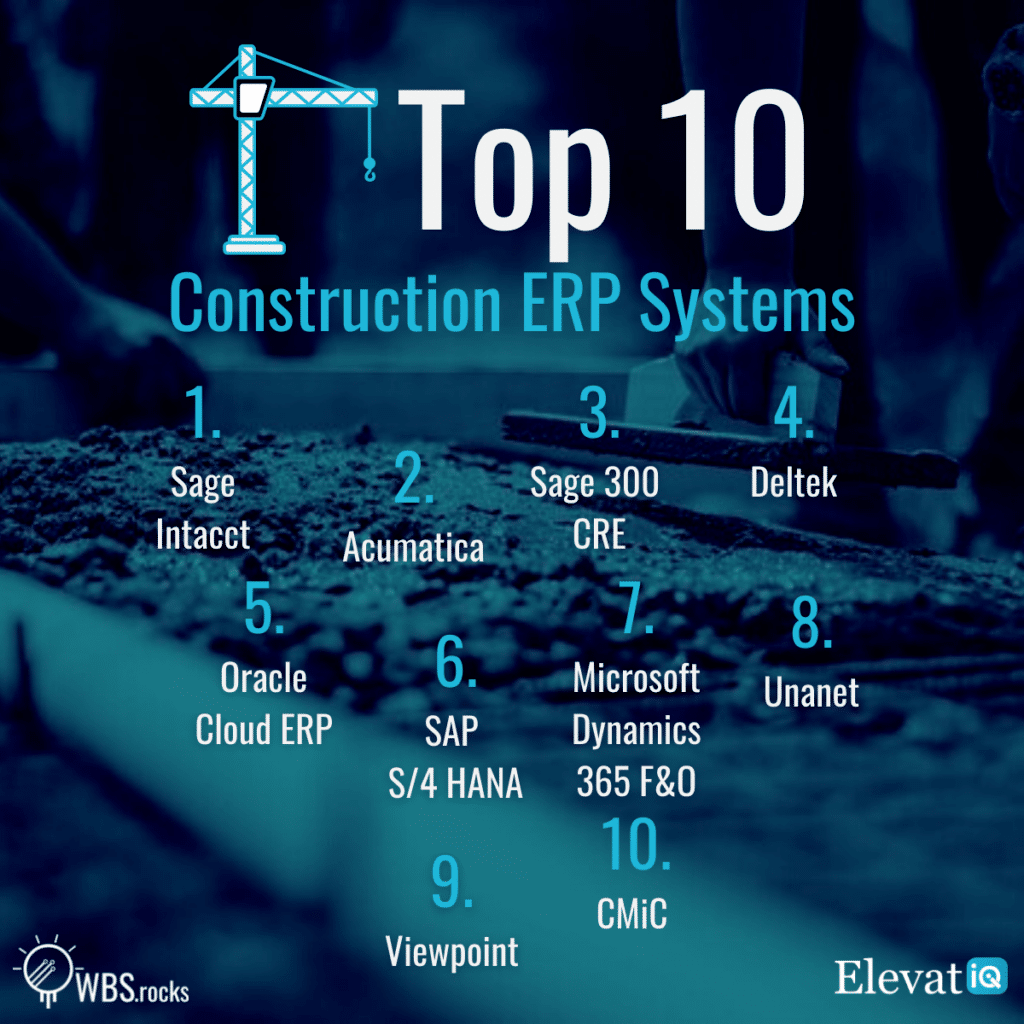 The purpose of this article is not to recommend these construction ERP systems. Instead, you must carefully analyze your requirements. This analysis will help you find a suitable product from this list or a list from your industry.
Criteria:
Overall market share/# of customers

We not only look at the number of installs, but we also look at the size of the customers. The higher the market share of the product, the higher it ranks on our list.

Ownership/funding

The more committed is the management to the product roadmap, the higher it ranks on our list.

Quality of development: legacy vs. legacy dressed as modern vs. modern UX/cloud-native

The more cloud-native are construction capabilities, the higher it ranks on our list.

Community/Ecosystem

The larger the community for the construction product, the higher it ranks on our list.

Depth of native functionality for specific industries

The deeper the construction functionality provided out-of-the-box that publisher owns, the higher it ranks on our list.

Quality of publicly available product documentation

The poorer the product documentation, the lower it ranks on our list.

Construction product share and documented commitment of the publisher through financial statements

The higher the focus on construction, the higher the ERP system ranks on our list.

Ability to natively support diversified business models

The niche products designed for specific construction industries struggle for companies with diversified business models. So the more diverse the product, the higher it ranks on our list.

Acquisition strategy aligned with construction

The more aligned the acquisitions are with construction, the higher it ranks on our list.

User Reviews

The deeper the reviews on public sites by construction companies, the higher the score for a specific product.

Must be an ERP product

It can't be an edge product such as Salesforce, ProCore, Adeaca, InEight, or ServiceNow. It also can't be an add-on owned by ISVs or VARs that sits on top of other accounting platforms. 10. CMiC
CMiC is a purpose-built construction management software designed for construction companies. Unlike Acumatica or Sage Intacct which were born in the cloud, CMiC is migrating its legacy platform to the cloud.
CMiC supports construction accounting, job codes, percentage of completion accounting, and union payroll needs. They also have many features such as project submittal, collaboration on RFPs, estimation, etc. By contrast, other software would require ProCore for their operational needs.
While CMiC primary target market includes SMBs, it has been able to acquire some larger customers with more than 3,000 employees. That said, CMiC overall revenue share in the construction space is still much smaller than other bigger competitors such as Deltek and Trimble. For these reasons, CMiC lands at #10 on our list of top 10 construction ERP systems.
9. Viewpoint
Like CMiC, Viewpoint is also a legacy vendor in the construction space. After its acquisition by Trimble, now they can offer much deeper construction management functionality. However, while they have made efforts to move their legacy codebase to the cloud, most of the screens still have a very on-prem appearance.
Like CMiC, Viewpoint can support the majority of the needs of your construction business, including construction management, estimating, construction finance, equipment management, etc. Viewpoint's revenue share is much larger than CMiC in the construction space but lower than Deltek. Its recent valuation during its sale to Trimble was $1.2 billion. For these reasons, Viewpoint lands at #9 on our list of top 10 construction ERP systems.
8. Unanet
Unlike CMiC and Viewpoint, Unanet targets Architectural and Engineering firms with deep DCAA compliance needs for Gov Contractors like Deltek. Also, unlike its legacy counterparts, Unanet has a modern cloud-native interface.
While Unanet can provide a complete package for project-centric firms, it still sits on top of other accounting packages such as Sage or SAP. They do it in the two-tier setting when larger companies need superior financial control at the corporate level. Furthermore, Unanet has a smaller market share than Viewpoint. For these reasons, Unanet lands at #8 on our top 10 construction ERP systems list.
7. Microsoft Dynamics 365 F&O
Microsoft Dynamics 365 Finance and Operations targets enterprise companies with more than 10-15 entities. Generally, in the construction industry, most SMBs may have more entities than other industries due to their business model. These companies typically have one entity per project, depending upon the complexity and financial risk of the project. But their transaction volume is lower compared to retail or manufacturing.
While Microsoft Dynamics 365 Finance and Operations may not contain the operational functionality as rich as some of the best-of-breed solutions, the larger companies typically prefer financial control at the corporate level. Therefore, they use other MS Dynamics F&O add-ons such as Adeaca for operational needs in a two-tier setting. These companies may also require more add-ons or custom development to support features related to construction.
Additionally, MS365 F&O has native integration for the field service, HCM, and CRM at the database layer that can assist large companies in building the best-of-breed architecture. For these reasons, Microsoft Dynamics 365 F&O lands at #7 on our list of the top 10 construction ERP systems.
6. SAP S/4 HANA
Like Microsoft Dynamics 365 F&O, S/4 HANA targets enterprise companies with more than 10-15 entitities. Both solutions offer much tighter integration of resourcing and procurement inside the projects. And this functionality helps companies manage their supply chain, resourcing, and forecasting.
Both of these solutions also include strong field service components. SAP S/4 HANA also has other solutions in its portfolio that can be used in the best-of-breed settings, such as SuccessFactors for HCM and Concur. In addition, companies use SAP S/4 HANA in conjunction with other best-of-breed solutions from other vendors such as Salesforce for CRM and Workday for HCM.
While SAP S/4 HANA is behind the cloud in the operational ERP capabilities, the financial capabilities are enough for most construction companies as the operational ERP functionality provided by vanilla ERP systems may not be as relevant in the construction space. These companies would require another construction-centric package such as Unanet or Procore in the two-tier setting to meet their operational construction needs. For these reasons, SAP S/4 HANA lands at #6 on our list of the top 10 construction ERP systems.
5. Oracle ERP Cloud
Unlike SAP S/4 HANA and Microsoft Dynamics 365 F&O, Oracle ERP Cloud is a clear leader in construction in the enterprise space with deep operational functionality for construction-centric businesses.
Oracle ERP Cloud portfolio for construction contains several products such as Oracle Aconex for design and construction coordination and Primavera products for project and portfolio management. In addition, Oracle includes Textura payment for streamlining subcontractor invoicing and payment and other products for submittals management in the pre-construction phase and collaboration among GCs and sub-contractors.
These operational capabilities provide a significant edge for Oracle in these industries compared to its other competitors in the enterprise space, such as Microsoft F&O and SAP S/4 HANA.
While Oracle might not have as deep last mile functionality for government contractors such as Deltek, Sage, or Unanet, they are far more globalized and localized to meet the needs of large public construction firms. For these reasons, Oracle ERP Cloud lands at #5 on our list of the top 10 construction ERP systems.
4. Deltek
Deltek has a large market share in the construction and GovCon space, with their last valuation being $2.8B in 2016. With this market valuation, they are much larger than their legacy competitors. They are also one of the largest in the GovCon space and have won logos such as AWS and Booz Allen Hamilton for their GovCon functionality.
Deltek solution is far ahead with its cloud-native functionality compared to the smaller vendors such as Viewpoint and CMiC. And their solution has been adopted by much larger construction firms.
Also, Deltek has an edge due to the deeper penetration in the ecosystem. The larger GCs that might be on Deltek typically require their sub-cons to be operating on the Deltek platform. They do so due to the collaboration synergies during the pre-construction or bidding phase.
While Deltek may not have as deep globalized functionality as Oracle ERP Cloud, it's deeper in its operational capabilities, making it ideal for upper mid-market organizations. In addition, while there are many solutions in the smaller space, Deltek doesn't have much competition in the upper mid-market space. For these reasons, Deltek lands at #4 on our list of the top 10 construction ERP systems.
3. Sage 300 CRE
Sage 300 CRE was the undisputed leader in the construction and real estate space in the on-prem world. It has extremely rich construction accounting functionality and deeper and native integration with ProCore, the strongest cloud-native platform for construction management.
Sage 300 CRE might not have as strong AE and GovCon functionality and might require an add-on to support that. But due to the financial backing of Sage, it's still a very attractive solution for SMB companies that require deep construction accounting, estimation, job cost codes, projects with procurement, etc.
Unlike Acumatica or Sage Intacct, Sage is not committed to continuing the Sage 300 CRE product to the cloud. Instead, they are currently building that functionality on top of Sage Intacct. As a result, Sage Intacct is likely to be the go-to product for Sage for the construction vertical, which will get all the bells and whistles of Sage 300.
And they might also have a migration path for existing Sage 300 CRE customers if they might not choose Sage Intacct as of today because of the limited construction functionality. For these reasons, Sage 300 CRE lands at #3 on our list of the top 10 construction ERP systems.
2. Acumatica
Like Sage Intacct, Acumatica is among the top three cloud-native products. In addition, Acumatica has a construction edition with deep capabilities for construction-centric field services and construction payroll and job codes.
While Acumatica has deep multi-entity functionality for companies in the US and perhaps in the UK, it might not be as rich as Sage Intacct with its global multi-entity and consolidation functionality. This functionality is a crucial requirement for most construction companies as they need to maintain each project as a separate entity and requires deeper cost analysis.
While Acumatica may not be as superior with its multi-entity capabilities, Acumatica's consumption-based pricing makes it very attractive for construction companies that deploy several third-party contractors and seasonal workers depending upon the project's demand.
Also, while Acumatica offers deep construction functionality as part of its construction edition and integration with ProCore, the ownership of their construction edition is not clear whether Acumatica utilizes a white-labeled add-on or they own the code. Acumatica may also require several add-ons to match the depth of Deltek and Sage 300 CRE for DCAA compliance etc.
But the core accounting, project management, field service, construction job management, cost codes tracking are likely to be richer. For these reasons, Acumatica lands at #2 on our list of the top 10 construction ERP systems.
1. Sage Intacct
Unlike Acumatica, Sage Intacct's core target market is service-centric industries, including construction. Construction has also been one of the largest revenue drivers for Sage through its Sage 300 CRE product.
While Sage Intacct may not have as large a construction market share as today compared to other competing products and Sage 300 CRE, its design suits construction-centric industries with its depth in multi-entity functionality and native consolidation capabilities. Sage Intacct also has native integration with ProCore, making them an ideal and killer combination as a cloud-native solution that other competing solutions can't match.
While Sage Intacct's design is superior for construction compared to other cloud-native products, which are primarily designed for product-centric industries, its entity-based pricing puts it at a disadvantage compared to Acumatica. But once Sage Intacct develops richer capabilities similar to Sage 300 CRE, Sage is likely to have a migration path for customers moving from the CRE product.
This move will help Sage Intacct acquire a much larger construction market share than most competitors. For these reasons, Sage Intacct lands at #1 on our list of the top 10 construction ERP systems.
Conclusion:
The construction industry has unique processes and accounting needs. The generalized ERP systems will fall short of meeting the needs of construction businesses. The ERP selection may be even trickier if your industry may be the hybrid of construction and manufacturing or construction and service repair or distribution.
So if you are evaluating a construction ERP system, make sure you understand and look for unique capabilities that will be a critical success factor for your implementation. And hopefully, this list can provide you with some options that might be potentially suitable for you.
FAQs