There are several dozen outdated ERP products in the market such as Macola, SAP R3/ECC, Point.Man, older versions of Syteline or Epicor, legacy ERP products published by Sage, IBM, Oracle, or Microsoft, and the list goes on. They exist across publishers as well as product categories.
In some cases, the publisher may not even be supporting these products or versions any longer, or they may have cautioned with a warning to pull off support if you didn't upgrade. Aren't vendors simply trying to push so they could sell new products?
While in some cases these warnings could be just an attempt to incentivize you to switch to the version they want you on, not all publishers are the same.
You can tinker with the product as you like but if you don't have the safety net of official support, it could hurt pretty bad, in a lot of different ways.
Some publishers are serious, as supporting these products or versions may not make financial sense for them. They may no longer have enough install base on the product to justify the costs of upgrade and maintenance.
Not appreciating product life cycle may have consequences
Compare this with the car market. Which automotive manufacturer are you aware of that is willing to support a car or a model forever? We can almost guarantee that you won't be able to name even one.
Irrespective of whether you agree or not, regardless of how expensive a product may be, no matter how inconvenient the switch could be, most products have life cycles that we need to appreciate and assess the risks of consuming against the wishes of a producer.
Tip: While we don't have an official list of how many products from this list have reached their end-of-life, we know for certain that some are out of support. If you are not sure whether your publisher is still supporting the current version of your ERP, you may want to check with them.
Why do businesses want to continue using the old software?
There could be several incentives why you want to remain on the old version. It could be the perception that the software no longer costs you.
Or you may not have been able to overcome your last nightmare of inconvenient ERP installation and the thought of going through the same experience again makes you nervous.
Yet another motivation could be the influence of your consultant who you have always trusted with advice and he is advising against it.
The final driver could be that you may not understand the risks and benefits of upgrading it.
While you might be able to hack the product with some tricks, it's hard to predict how it might behave with these fixes and what implications it might have.
10 risks of using outdated software
Whatever could be the reason, read on to educate yourself on some serious financial risks, you might not be familiar with, associated with the usage of an outdated ERP product.
1. No Official Support
Tip: If you are still lucky to have support from your publisher on the legacy ERP product that you are using, you may want to skip this section and move to the next.
While some consultants might claim that this is not an issue, official support from the publisher is still important.
An ERP product is a black box, and only OEMs are experts in (or should be) fixing serious product issues. While you might be able to hack the product with some tricks, it's hard to predict how it might behave with these fixes and what implications it might have. You can tinker with the product as you like but if you don't have the safety net of official support, it could hurt pretty bad, in a lot of different ways.
To explain this further, the official support is like a manufacturer's warranty or the support that comes with a car. While you might be able to take your car to a local mechanic for minor fixes who may not be officially certified or endorsed by the manufacturer such as Honda or BMW. When a big repair is due, say if the engine or transmission breaks, they might pull off their hands, and then you may be left without any support.
You can't afford to take such risk with a financial software product, which is considered similar to your company's brains. Imagine what would happen to your company if its brain malfunctions.
2. Security Vulnerabilities
An outdated ERP product exposes you to security vulnerabilities as the core of the software is not being updated.
To be honest, I don't feel comfortable mentioning this point as it has become a cliche. Some vendors overuse it, just to get a foot in the door. That said, let me try to explain why this is an even more serious issue for a financial software product.
We all know that financial applications store critical financial and confidential data about the company as well as customers. If this data is leaked because of a security vulnerability, there could be a real financial risk that you can't afford to ignore.
To understand this better, let's take an example. Think of security updates as your flu shots that you take every year as a preventive measure to protect yourself from flu. If you are not familiar with how flu shots work, the reason why we need to take them each year is that as new strains of flu viruses are discovered, the vaccine needs to be updated.
Now imagine what would happen if you stop taking flu shot suddenly. If the new strain of the virus attacks your body, you might likely get flu. I remember getting sick at least 4-5 times a year when I didn't appreciate flu shots. I (or my wife 🙂 ) had this reservation that they reduced our immunity. I am so glad that we could get over our skepticism.
Similarly, when you have official support through OEM, they are vigilant of the new strains of computer viruses or threats and they are sending these updates yearly in the form of support. The way flu shots work.
You don't want to get an "ERP flu", especially if you are not used to one, as up until now your publisher has taken good care by providing you preventive upgrades to protect you from one.
3. Outdated Capabilities
It's hard to express or demonstrate software capabilities as, for most people, the software is a huge black box. It's equally difficult to communicate why the capabilities you have right now may be outdated.
The best way to understand this would be to go back to our example of cars. I am sure you would agree that a Nissan from 1992 would feel very different from the one from 2020.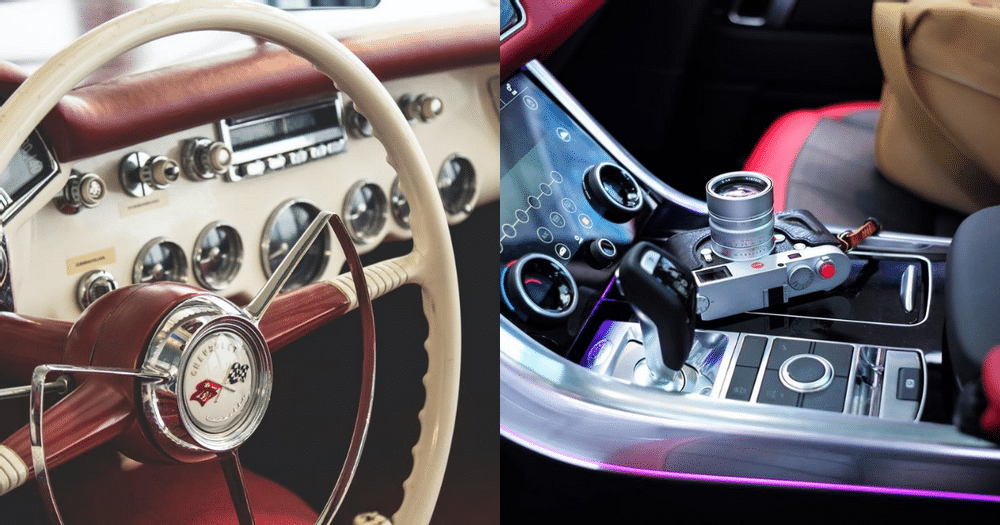 Photo by Niklas Garnholz and Kenny Luo on Unsplash
Now if we ask you to describe the difference between these two models some novice users might say that the design isn't as great, or it is no brainer that the 2020 model will be superior.
On the other hand, the folks who maintain slightly more technical knowledge about the subject might be able to comment about safety ratings, engine power, or superior transmission, etc.
However, one thing they both will agree that 2020 will always be better than the one from 1992 and will provide superior capabilities because of technological advancements and improved design.
4. Expensive Consultants
The way the consulting market works is. Consultants want to work on the coolest technology and the newer products as it is good for their resume. They want to make money by being early adopters of the technology before it becomes too crowded.
The same applies to older products and technologies. Once an OEM announces a change in the strategy, the consultants want to move on from the legacy technology before their resumes become outdated. The ones who are going to be left will ask for much higher rates due to a lack of expert resources.
There is nothing you can do to avoid this as this is how the talent market works. It's the supply chain, which is driven by supply and demand.
One thing you can do to save yourself from getting into this situation is to upgrade the product as the market moves or you will be left behind with a car from 1992 with the transmission broken and there will be a few expensive experts who might be able to fix it.
By the way, in case of a car, the maximum risk would be to replace it with a new one. With ERP, however, the risk is greater with disruption to your business along with potential loss.
5. Costly Upgrades and Maintenance

The older systems would require more time for debugging and a longer time for maintenance as they are not being upgraded by the OEM.
The reason why people upgrade their cars is not purely because of the prestige. They upgrade because the older ones cost more to maintain. The maintenance costs could be more than what it would cost to buy a brand new car. ERPs.are not any different.
How many people do you see driving a car from 1992 on the road? And if you don't drive that old car yourself, why would you take a risk of using an ERP system from 1992? I am pretty sure you would agree that it's not a very smart decision.
6. No Mobile Capabilities
When the older technologies were designed, mobile devices were not as prevalent and because of that, they were not designed to be compatible with mobile devices.
Modern cloud software offers anywhere, any device capabilities, which means you could have real-time insight on your fingertips along with the ability to operate your ERP from the mobile phone.
7. Frequent Outages

Your car from 1992 is less likely to be reliable and might break a lot. The same applies to your ERP. Since the software is not being upgraded, it might break often and your consultants might take longer to fix as they would not know what might be breaking it.
This might disrupt your business processes as you might not be able to fulfill your order or cut invoices.
8. Hardware or OS Incompatibility
Even if your consultants might be able to hack software, the software may not work with newer versions of databases, which would mean the software may not be compatible with the operating system or the hardware.
9. Challenges in complying with regulatory requirements
Typically modern software automatically upgrades with changes in laws and regulations such as changes with PCI compliance, data security, new tax laws, and new accounting rules.
Not only you would be missing on these features, but there could also be hefty fines for being non-compliant with these regulations.
10. Customer and Employee Experience

Irrespective of whether you are a small business or large, today's customers have similar expectations as Amazon when it comes to experience expectations. They prefer reliability and traceability with the order and the only businesses they want to engage are the ones who are predictable and credible. The risky software only introduces unpredictability to your capabilities to deliver with credibility.
The same applies to employee experience as well. Millennials grew up using their mobile devices and Facebook. They would rather work for your competitors than making their life hell by using clunky, legacy software. It's already very hard to find talent and you don't want the software to be the reason to lose on the best talent.
Conclusion
ERP switch requires tons of planning and if you don't want to be like a deer in the headlights, you may want to align your ERP upgrade process with the market. It's not too bad if you skipped a model or two but driving a car from 1992 isn't very smart either.
Your first step would be to at least check whether the current software is still supported by the OEM and what would you be your options if it is not supported any longer. Consulting companies such as ElevatIQ might also help with data migration and transition planning before it's too late.