Searching for an ERP solution that suits your business model? If so, the first thing you would need is to understand the functional behavior of the system based on the processes you plan to host in the ERP system. As well as how it would affect your business. While each business might need a few specific modules, most would need these common ERP modules.
Not familiar with what a module is? They are a collection of transactions or functionality like AR, AP, or inventory management. Like puzzle pieces, each module does its part of the business. The most important thing to know is how these common ERP modules fit together. And which ones you would need to wire your business model. Each ERP system might differ in functionality and contain different modules. Some ERP systems contain industry-specific capabilities, while others are likely to be slightly more generic. Some modules are also more common and often included with most ERP systems. So which are the top 10 common ERP modules with widespread application? But most importantly, would they be relevant for your business? Review the sections below to find these answers.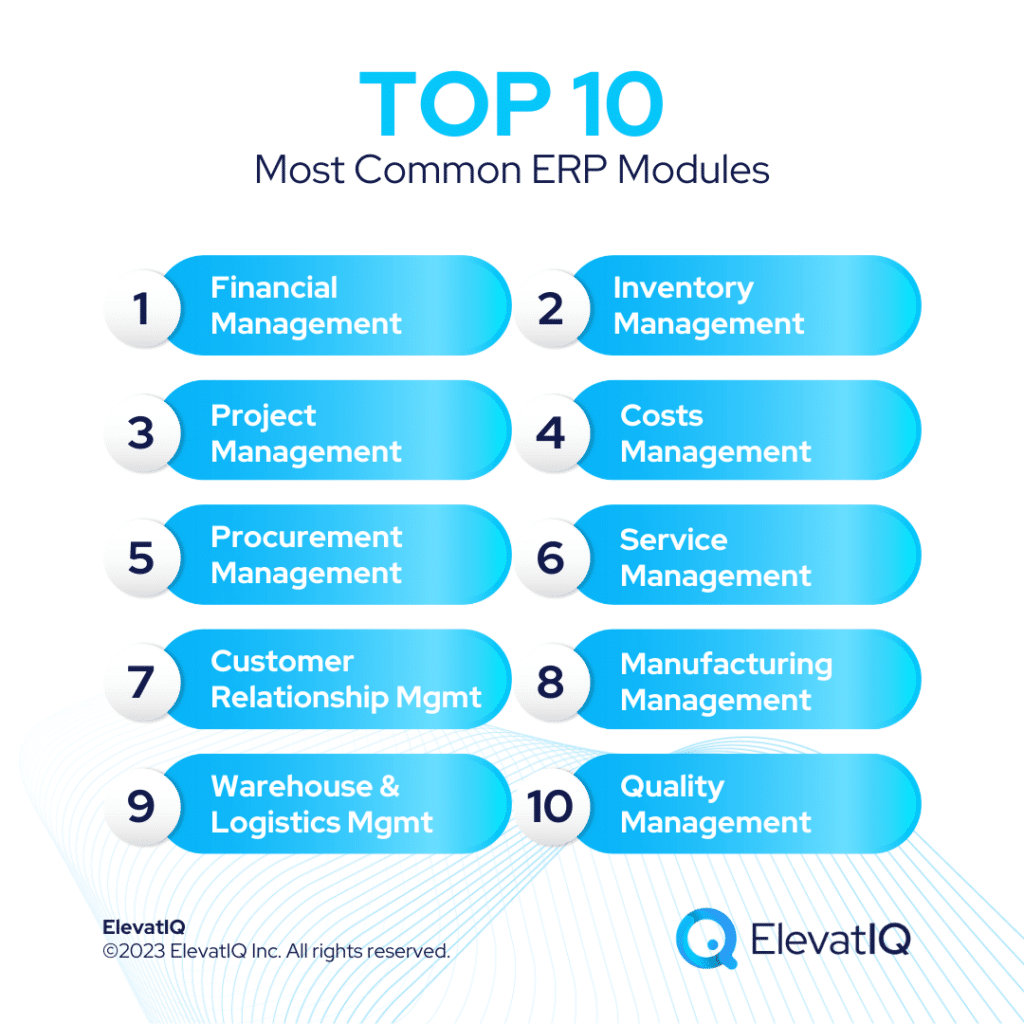 1. Financial Management
The financial management module is the foundation of any ERP system, and it's essentially inseparable. In other words, if you plan to use an ERP system, you need to replace your current accounting system. Said another way, if a system doesn't require you to replace your current accounting system, then it's probably not an ERP. Generally, the finance module of an ERP helps with the following activities. Things like managing accounts receivable (AR), accounts payable (AP), general ledger (GL), fixed assets, taxes, and financial reports.

For some large organizations and certain business types, the financial management module might also help with financial risk management. As well as basic budgeting. However, suppose a company has more sophisticated budgeting needs such as planning, budgeting, forecasting, scenario modeling, and performance reporting. In that case, specialized financial planning & analytics (FP&A) or corporate performance management (CPM) would be a better fit.

While most ERP systems might appear alike, the key difference between large and smaller peers would be their multi-entity and globalization capabilities. If you have a global multi-entity structure with financial synergy among them, you might need a bigger ERP system. You would need a bigger system to support the localization needs of these countries. Regardless of whether you plan to utilize any other modules, you would use a finance module with an ERP.
2. Inventory Management
Primarily used with product-centric organizations, Inventory management is another core module included with ERP systems. But even service-centric organizations may require their product and services to be coded as inventory SKUs. They need this for costing and scheduling, regardless of whether they are stocked or not. Yet another example of inventory management that differs per industry would be manufacturing, which generally has one of the most complex inventory layers such as raw materials, work-in-progress (WIP), finished goods, MRO, quality control items, kanban, fixtures, or tooling.
Maintaining inventory layers also require keeping their appropriate units depending upon their purposes, such as sales, purchase, or consumption. So if something is measured one way when it's bought, consumed (or sold) another way – the module automatically translates that. Lastly, this module ensures that the accounting layers are in order by handling First-In-First-Out (FIFO), Last-In-First-Out (LIFO), or average costing.
Also, if this is your first time using an ERP (and you were on an accounting system before), you may not have your inventory formalized. It's because the accounting systems don't require inventory to be SKUed and instead can manage with text-based line items. Without formal inventory, you might not have issues with financial reporting and taxes. But you are likely to struggle with other issues such as costing, scheduling, and inventory planning. This is why an ERP requires you to formalize your inventory, which means each inventory item needs to have an SKU and its layers. That said, the inventory module may not be relevant for your business if you plan to use ERP just for financial reporting. 
3. Project Management
The project management module in an ERP system is relevant for companies that offer professional services or engineer-to-order products. Companies use this module to manage projects for their clients or any internal project where they need integrated costing, resource management, and scheduling.
Since there is a very thin line between a job management of an ERP and a project, some companies might struggle to understand when they might need a project management module. In general, a project is an overarching financial wrapper that can not only account for operational project management tasks but also incorporate engineering, manufacturing, or service installation. So a project may have multiple jobs. The overarching costs for the project would account for and schedule all jobs that might be part of the project.

A project generally has a different lifecycle than a job. It might have several milestones and a payment schedule. The project management functionality also incorporates change order functionality, the changes to the original expectations of the contract or scope. Any change orders generally lead to changes in milestones and the revenue recognition cycle. The larger ERP systems are likely to contain comprehensive project management functionality, including keeping track of all invoices generated per milestone and revenue recognition cycles. But most importantly, the project management module would help you with the micro-profitability analysis. As well as consolidated scheduling, combining the demand for resources from all projects.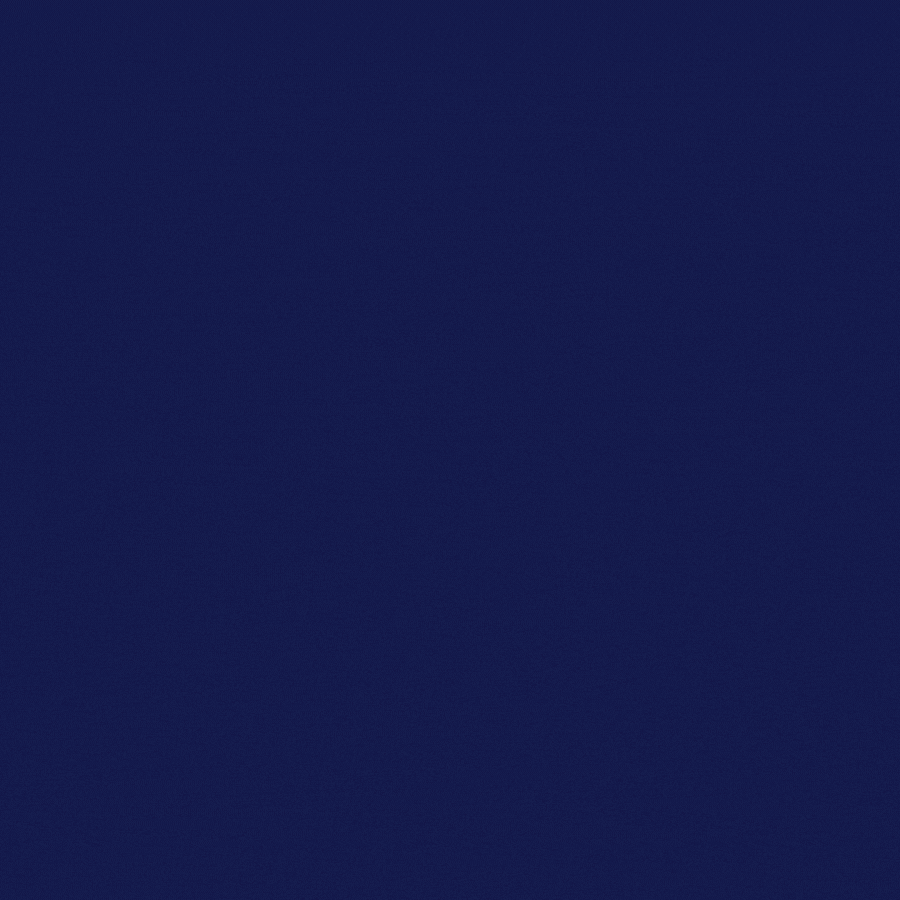 4. Cost Management
The cost management module in an ERP system helps track costs across all business processes regardless of the industry or business model. While pricing depends upon costing, and most people collate them together, the scope of the cost management module doesn't include pricing. They generally have very different lifecycles and structures and are often part of different modules of ERP systems.
For product-centric businesses, this module allows capturing different materials, labor, and overhead costs across all cost categories, such as fixed, variable, or burden. The material costs may include any costs related to manufacturing or procurement depending upon the sourcing strategy of that material. The procurement costs would include accounting layers such as FIFO, LIFO, or average, given the accounting standards, and would account for all costs, including custom, brokerage, duties, or whatever you include as part of your procurement costs. Regardless of whether the costs are likely to be direct or through a sub-contract arrangement, the costing module would help compute the total costs of your offerings.
Even for service-centric businesses, this module is crucial. Their human resources costs are likely to be higher based on their skill sets. This module tracks this across all categories, such as salary, benefits, overhead, etc., for each process that consumes human resources. The cost management functionality of different ERPs might vary based on their size. Smaller ERP systems and ones for service-focused businesses might have fewer layers of costs they track. But the bigger ERP systems provide detailed information about all the operational costs. More layers generally lead to more granular traceability and detailed analysis that companies need to plan and manage their costs.
5. Procurement Management
The procurement management module in an ERP system is helpful in managing the execution aspect of the procurement function, whether they offer services or products. When companies require advanced procurement capabilities such as Amazon-like catalog management, guided buying, or vendor network, they might not be part of this module and instead need an advanced system such as P2P.
For product-centric companies, the procurement process is generally intertwined with their production process, as the production function is dependent upon procurement and the timely availability of materials. This module handles the entire procure-to-pay process, including purchase order (PO) management, PO matching, RFP, and RFQ management. On the other hand, service-centric companies have their procurement processes embedded with their project workflows.
6. Service Management
The service management module in an ERP system caters to various service-centric needs. This is important for businesses that provide services along with their products, post-sale service inquiries, or pure-play field service organizations.
Depending on the design and size of the ERP system, the features included in this module might differ. For companies that offer services along with their products, this module might consist of capabilities for processing service orders, service scheduling, service inventory management, technician scheduling, and field service management. For companies offering post-sale services, this module can also handle incidents, cases, after-market serial number management, etc. The customer service module might also include the workflow of a call center or customer support work.
As far as the functionality of this module goes, there is generally an overlap between an ERP and other systems, such as CRM, OMS, or eCommerce. But the overlap is likely to be limited to the customer service side of things and not to the operational and financial aspects of service management. Regardless of whether you host this process in one system or multiple systems, if you need to measure and track the costs and centrally manage your resources, you might require a service management module of an ERP.

7. Customer Relationship Management
The customer relationship management(CRM) among common ERP modules manages different parts of the customer journey. Inside this module, you can find capabilities such as sales funnel management, marketing spend management, territory management, commission management, quoting, estimation, etc.
However, suppose your business needs more advanced features for managing your pre-sales processes, such as social media management, marketing channel attribution analysis, content management, marketing automation, etc. In that case, you might need a specialized CRM designed just for that. The CRM module in an ERP system usually focuses on operational and financial business processes, the processes that generally touch the workflow of other departments. And not the siloed processes that don't require operational and financial collaboration with other departments.
Regardless of whether you use a specialized CRM in your architecture or not, you might still need a CRM module of an ERP unless you don't plan to host your customers inside your ERP and use it primarily for financial reporting. Also, generally, most ERP systems are designed for B2B customers because of their structure. And since they are not the most efficient for B2C customers, you might use a specialized system such as POS or an eCommerce depending upon the channel. Based on the architecture and business processes, the need for a CRM module might vary.
8. Manufacturing Management
The manufacturing management module inside an ERP system is helpful for manufacturing industries or industries that might have similar workflows as manufacturing. This module helps manage several things, such as bills of materials, manufacturing requirements planning (MRP), advanced planning and scheduling (APS), mixed-mode manufacturing processes management, and preventive maintenance of assets.

However, suppose your manufacturing needs are more advanced, like machine integration, statistical process control, operational data collection, or edge device communication. In that case, you might need specialized software focused on these tasks. This kind of operational technology software is called MES, which stands for Manufacturing Execution System.
The manufacturing module is perhaps the most misunderstood module. In some cases, companies feel that ERP systems are generally relevant for either manufacturing companies or manufacturing processes. In other cases, they just overgeneralize manufacturing and feel that everything can be a manufacturing process, including construction or software development. While the intent of the manufacturing module of an ERP is generally operational or financial in nature. Basically, anything and everything that is manufacturing-like operations, like event management, might use the manufacturing module of an ERP.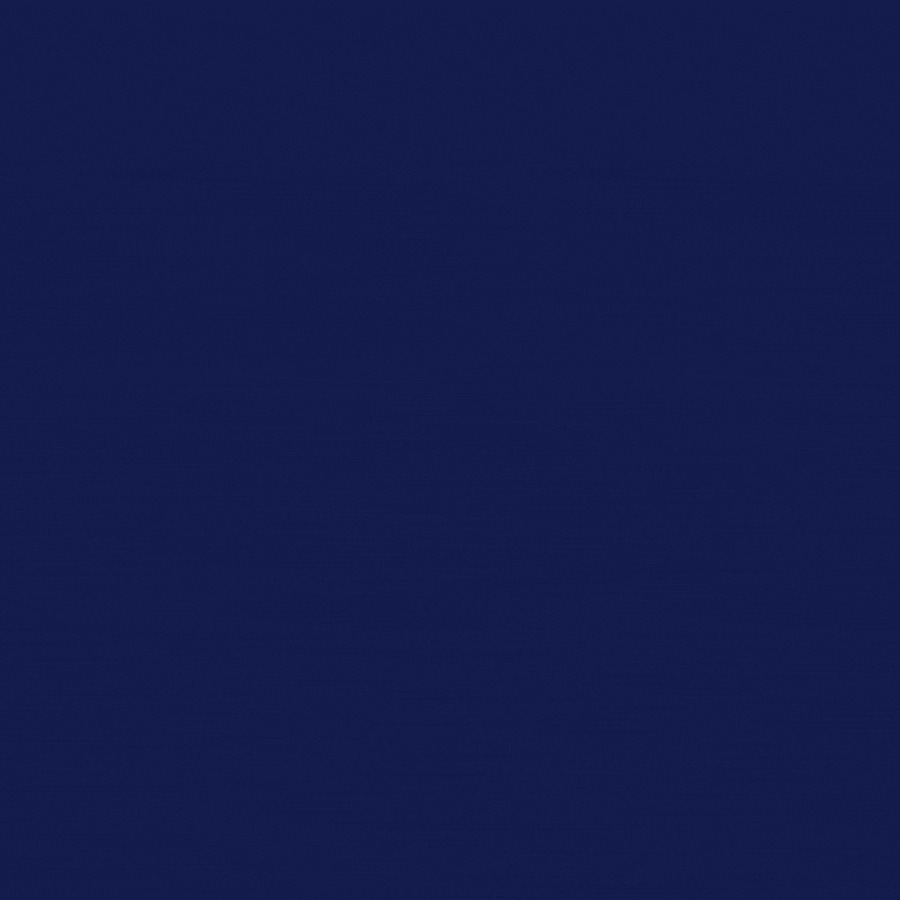 9. Warehouse and Logistics Management
The warehouse and logistics module in an ERP system helps companies manage their storage and moving of goods through processes such as pick, pack, and ship, warehouse, and location management.
Advanced ERP systems have even richer capabilities. These capabilities can help manage wave and batch management, carts and tote handling, cycle counting, data collection using barcode scanners, paperless and direct picking, container loading and unloading, license plate and ASN management, and global trade management. But if your business needs more specialized capabilities, like ASRS or AGV integration, slotting, 3PL capabilities, supply chain control tower, etc., you might need a specialized WMS, TMS, or a supply chain suite.
Traditionally, the boundaries of ERP and WMS systems were separate, with ERPs being primarily responsible for keeping the inventory counts while WMS was for location management. Also, some industries that were primarily designed for distribution or retail always required a specialized WMS system, so the warehouse and logistics management module of these systems was leaner or virtually negligent. In some industries, the warehouse architecture might be so different that using a warehouse module included as part of the ERP might not make sense. The newer breed of ERP systems, especially the ones that target SMB companies, generally package some basic warehouse capabilities to allow companies to manage their warehouses and logistics functions without requiring expensive integration and IT capabilities. Depending upon whether you plan to use a specialized WMS or TMS system in your architecture or not, the usage and features required as part of your warehouse module might vary.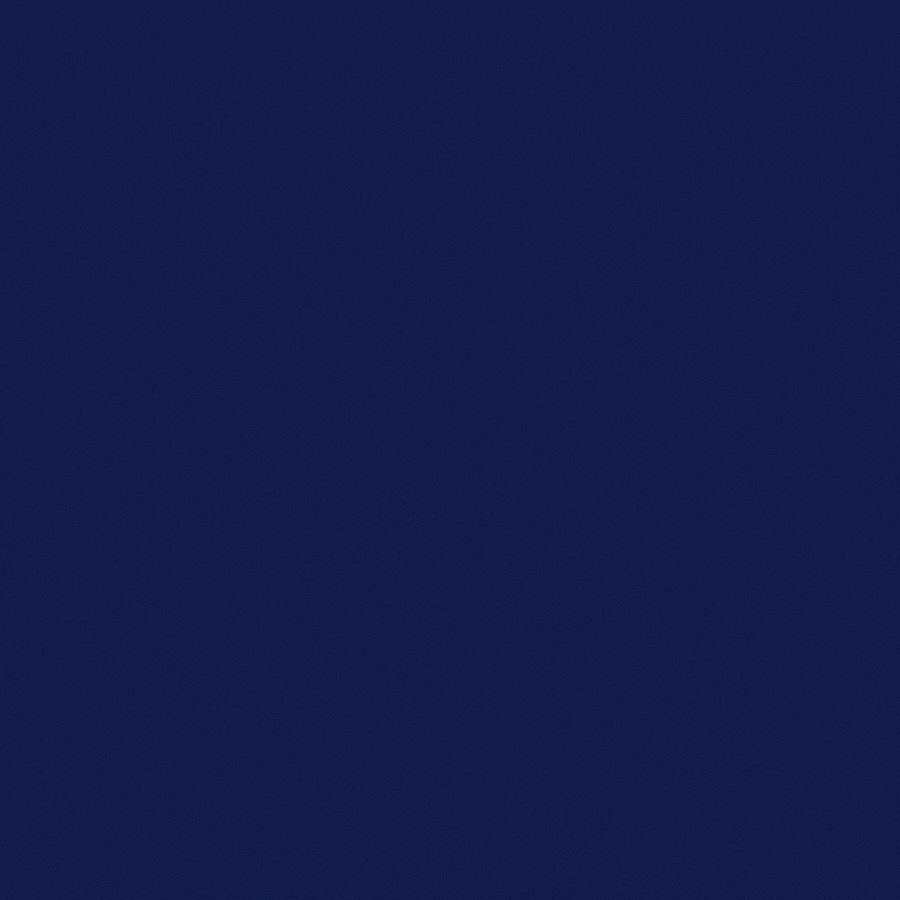 10. Quality Management
The quality management module in an ERP manages the execution workflows of quality teams. Most companies with similar operations as manufacturing will likely require quality processes embedded with any external touch points such as procurement, returns, or production. Inside this module, you can find capabilities for different aspects of quality control, such as supplier, in-process, and RMA quality management.
This module supports features such as material review boards, quality inspections, quality certifications, and corrective action workflows if something doesn't meet the expected quality. It also manages non-conformances and tracks how they are resolved. The presence of quality management processes can vary in different ERP systems. Some ERP systems come with these quality processes built-in, while others might not have them at all. It all depends on how the ERP system is designed.
Companies that are quality-heavy are likely to require reporting capabilities with their quality module. While the quality management module might support features such as document management or version control, it might not support operational capabilities such as documentation templates, redlining of documents, or document collaboration. For these capabilities, a quality add-on is generally a better fit. The quality module is useful for companies where quality processes are likely to impact the financial and operational workflow and is tightly embedded with the operational processes. That's why some companies might host their quality processes externally and might not use this module.
Final Words
As you are starting the ERP journey, understanding how these common ERP modules differ is the first step to start with your selection process. While reviewing different systems, these modules are likely to appear very similar. But they each are very different and require careful review.
Once you have a good grasp of their scope, their usage might differ based on your business model and needs. So before concluding which modules you need, make sure you have a good understanding of their scope and capabilities, and hopefully, this list could provide a good foundation to start your journey.
FAQs